What's Up, Weekend | Birthday Week, Makeover, Nordstrom Order + More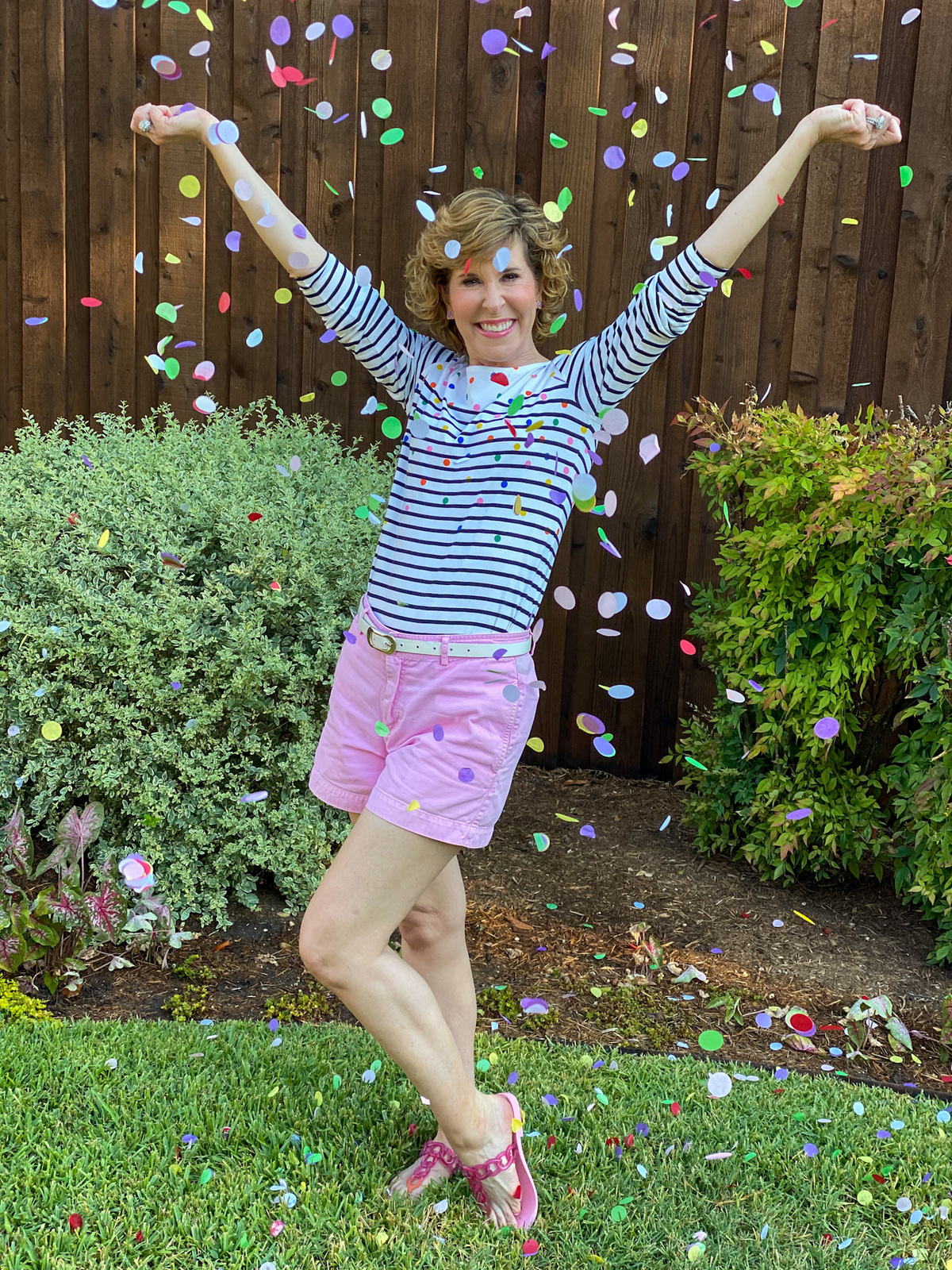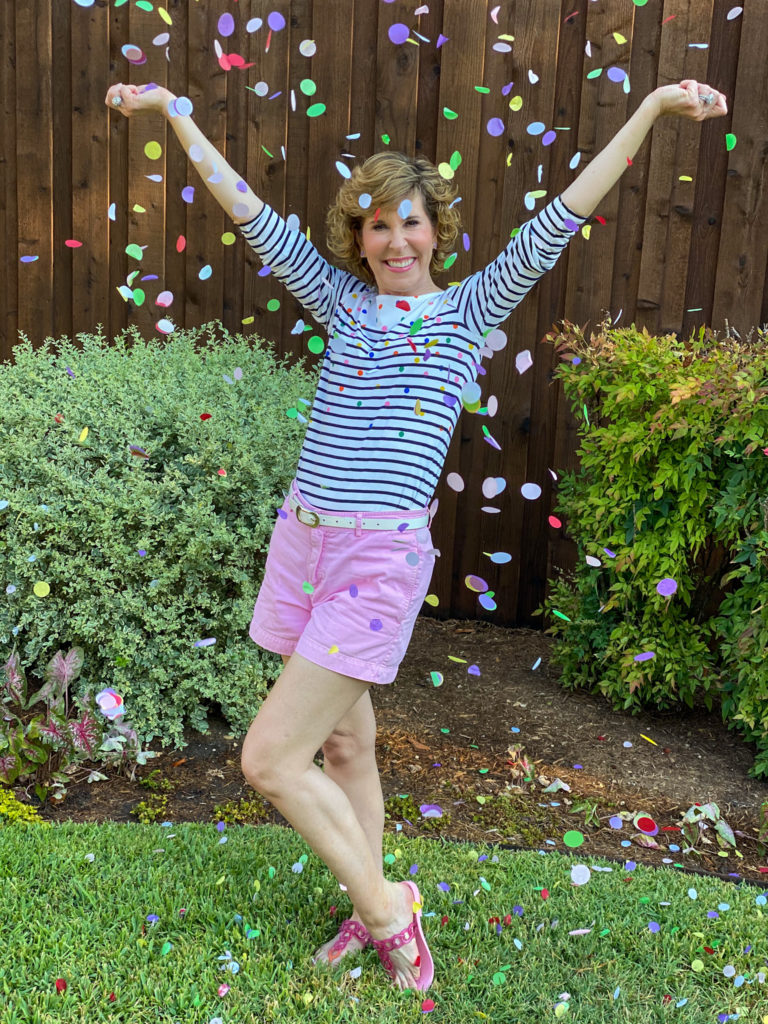 It was my birthday week, and I certainly kicked it off with a bang! Here's all the scoop on what went down this week…
My Top-Secret Makeover!
Well, I'm not allowed to share the brand yet, nor the magazine and website where everything will be published this fall

(pinching myself!!!), but I can let you in on a few more details of Sunday, Monday and Tuesday's top secret project!
If you watched my Instastories on Sunday & Monday, you know that I got a hair makeover from a celebrity hair stylist at a certain salon on Monday! The certain magazine that is producing and publishing the whole thing started things off with a video shoot in my home on Sunday afternoon, where I talked a little bit about women over 50, and why I thought the empty nest season of life was the perfect time for a hair makeover.
As you can see, in my makeover I went redder, straighter, and got a shag haircut! (BTW, my celebrity stylist said the shag haircut is the hot look right now! Who knew?
) My dad was a redhead when he was younger, and I have his warm-undertone complexion, so I've always thought it would be fun to go a little redder! Also, I've always loved Lisa Rinna's hairstyle, so I'm heading that direction! (I still need to grow out the top a little bit more!)
I can't say much more because it will all be in the video and print interview, but I will tell you that the makeover process was surprisingly emotional for me!

I was completely taken off guard by that! On Tuesday this week, the magazine and I worked on the print interview part of the piece, and I got to unpack that a little bit and talk about the challenge of embracing change as an empty nester. It was like therapy, y'all!

After the hair was done on Monday, I headed to a photo studio for hair touchups, makeup, styling, and a photo shoot. It was unbelievable, and I loved every minute of it! Two other influencers also got makeovers: Kyra Knox from Kyra M. Knox and Abby from Marbleously Petite. It was all pretty surreal, and I was so grateful for the amazing opportunity!
Of course, I'll let you know when everything comes out in all the places!
My Birthday!
Truthfully, I was so tired on my birthday from everything that had gone on the three days before, I didn't do much! I had hundreds of emails to respond to from the previous three days, so between doing that and FaceTiming with kids, parents, and friends, I kept it pretty low key! Bob and I went out for a super chill and unhealthy dinner at Five Guys
, and then I gorged on my favorite dairy-free ice cream and stayed up until 1 a.m. trying to get caught up on everything!


Thank you to all of you who DMed me on Instagram, left messages on Facebook, and even emailed to tell me Happy Birthday! It meant the world to me! I turned 55 this week, and I couldn't help but reflect on my many blessings.

I'm so grateful for my family, friends, and especially my faith. I'm also so grateful for each of you! Thank you for sharing my life and this empty nester journey with me!
I spent Wednesday trying to catch up on all of my emails and DMs, and by the time I actually got around to shopping the Nordstrom Anniversary Sale, it was very late on Wednesday night. Several of the things I'd had my eyes on were actually sold out, which I took as a sign directly from the Lord himself that I didn't need to spend the money on them!

Here's what I finally ordered:
THIS bra that I hear is perfect for us flat-chested folks!
THIS handbag that I couldn't shut up about! Sorry about that!
THESE sleep shorts that Bob adores.
THIS fancy-schmancy makeup mirror. I'd been eyeing it, and I finally pulled the trigger. It has a cell phone holder so it will be ideal for filming beauty videos. (Upcoming: Common Midlife Makeup Mistakes!)
Have you shopped the Nordstrom Anniversary Sale yet? If you're still on the hunt for deals, know that there are certain categories where you can still find great deals:
To check out my Nordstrom Anniversary Sale picks in many of the major categories, click HERE.
My Instagram Looks This Week
Y'all let me know that you loved seeing my Instagram looks all in one spot in last weekend's post! I'm so glad! We all get busy, and I've talked to several friends who are taking a break from social media right now, so it's perfect for me to share them here for you too!
Yellow Ruffle Neck Puff Sleeve Top (many other colors/prints available) | NYDJ White Stretch Denim Skirt (50% off with code BYESUMMER)| Yellow Pumps (similar)| Yellow Belt (similar)| Yellow Bag (similar)| Faux Pearl Earrings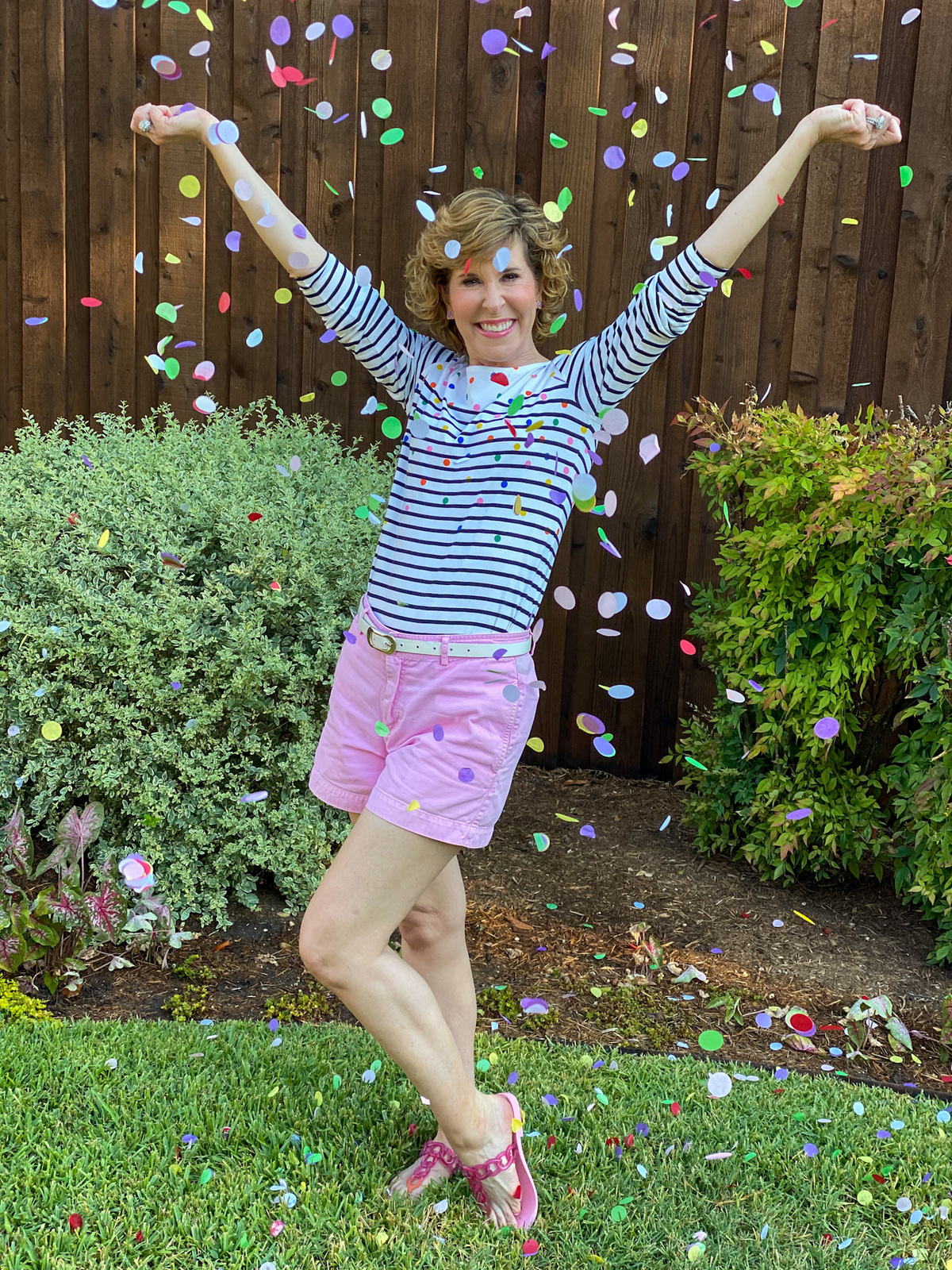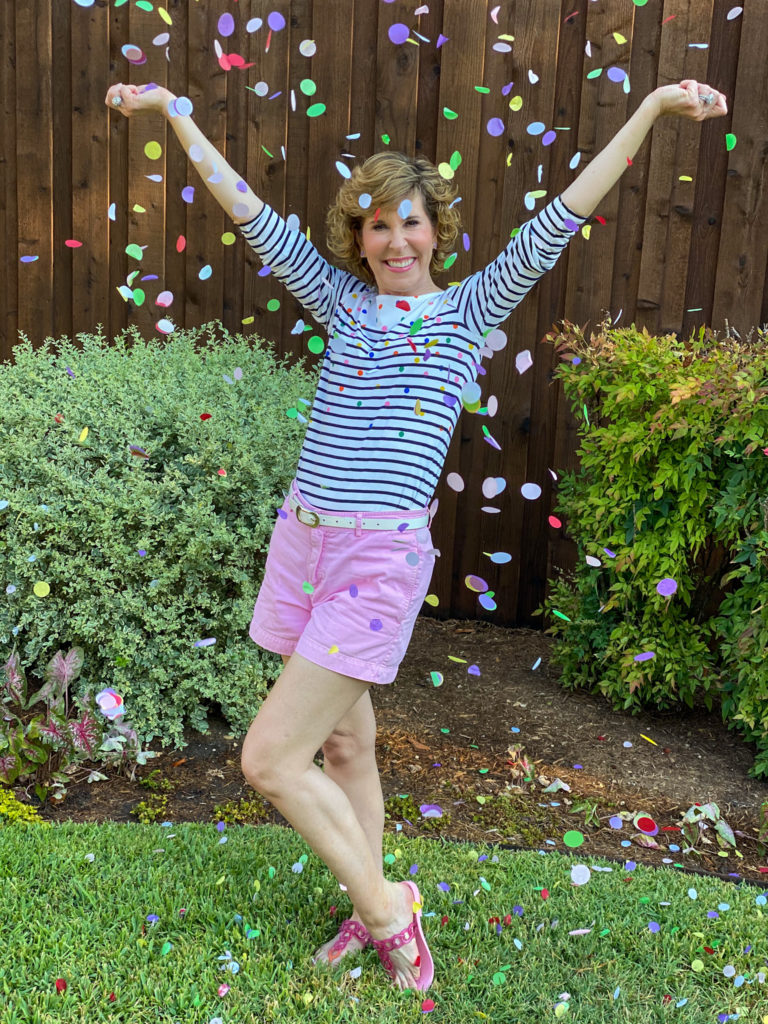 Long Sleeve Confetti Tee | Pink Shorts (similar) | Pink Jelly Chain Link Sandals | Pink Confetti Earrings | Confetti

V-Neck Tie-Dye Tee |White Crochet Hem Ankle Jeans | Turquoise Denim Jacket | White Wedges (similar) | Pearl Cluster Earrings

White Eyelet Puff Sleeve Top (similar) | Khaki Shorts | Animal Print Skinny Belt | Faux Pearl Earrings | Lipstick "Rhubarb"| Say Yes to What's Next Book by Lori Allen

Looking for a precious book to round out your summer reading? I've loved reading Lori Allen's book, Say Yes to What's Next this summer!
You may know her as the central figure on TLC's reality show Say Yes to the Dress: Atlanta, which is filmed at her bridal salon. But did you know that she's also an empty nester, wife, grandmother, and breast cancer survivor?

In this book, Lori shares the wisdom she's learned throughout her life in a humorous and encouraging way, along with actionable, practical steps every women can take to move forward after a devastating diagnosis or big life change.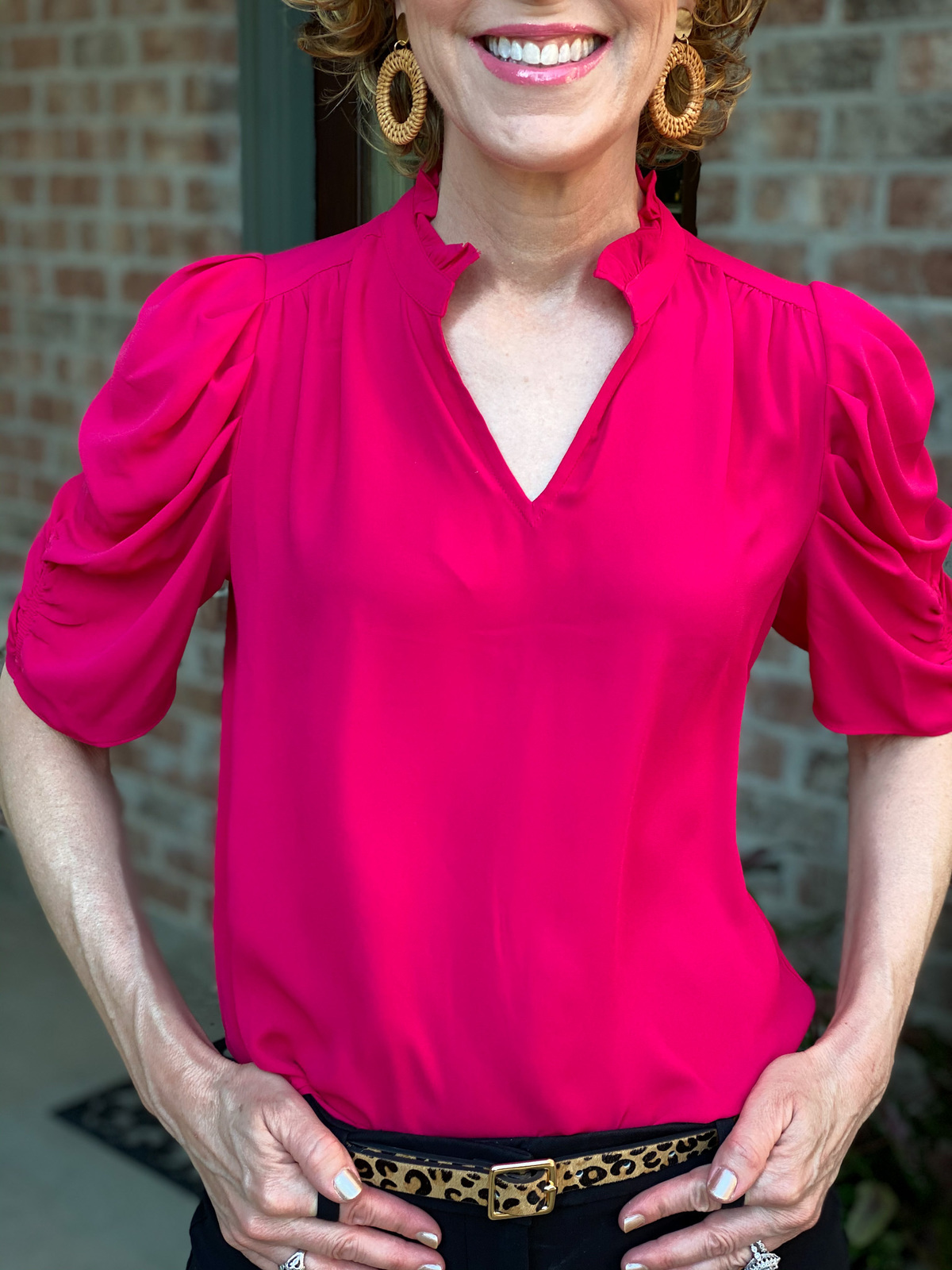 LEFT: Georgette Half Sleeve Ruffle Neck Blouse (11 colors/patterns!)| Black Ankle Pants (similar)| Animal Print Skinny Belt | Low-Heel Block Heeled Ankle Strap Sandals | Rattan Drop Earrings

This top is from my favorite Amazon brand, Lark & Ro. Their clothes are chic, classic, and well-made. You can browse the entire collection HERE.
RIGHT: Georgette Half Sleeve Ruffle Neck Blouse (11 colors/patterns!)| White Ankle Jeans With Unique Scarf Tie Closure (50% off with code BYESUMMER)| Square Scarf Ties (Variety Set of 9) | Pearl Embellished Sandals (similar) | Faux Pearl Earrings | Apple Watch

I've talked about these scarf-tie ankle jeans before, but it's worth mentioning again because they're 50% off (+ free shipping/returns) this weekend with the code BYESUMMER! It's a little bit tough to describe, but they have a hook & eye trouser closure, covered with two flaps of denim with grommets at the ends. You feed the ends of any square scarf through, and tie it for a custom look! They are so cool, and every time I wear them people ask me where I got them! They come with a neutral scarf tie, but I ordered an inexpensive 9-pack of square scarves on Amazon so I could coordinate with various tops for a custom look. The jeans also come in light wash and medium wash blue denim, and in petite, regular, and plus sizes! You can see them all HERE.

I wore the outfit on the above right for an Instagram LIVE COVID-19 Q&A that I did with Dr. Jill Grimes, author of The Ultimate College Student Health Handbook! We discussed the latest research on COVID-19 prevention and protection, what to do if your college or young adult kid comes down with it, and what everyone should have on hand just in case that happens. (She put together a handy, shoppable list HERE.)
A few weeks ago, I did a similar Insta LIVE with Dr. Grimes, but we were specifically talking about sending college kids off to campus in the age of COVID-19. We were plagued with tech problems, so we turned that broadcast into a blog post. You can read it HERE. Since the news on everything COVID-19 seems to change daily, and since I've gotten several follow-up questions on the things we covered in that first IG LIVE, we decided to do this Q&A one. You can watch it HERE.
Best Weekend Sales
I'm just sharing a few of my favorite sales this weekend! These are brands I actually shop and that I talk about all the time here on Empty Nest Blessed.
Thank you for shopping with my links! It supports Empty Nest Blessed and allows me to keep doing this job I love so much! Click the PINK links to go straight to the sites. 
CHICO'S | 25% off full-priced styles with code 31421. (I am absolutely crazy about their super-classy take on the tie-dye trend!)
NORDSTROM | The big sale is now open to all Nordstrom cardholders! While you're on the site, be sure to hit up their CLEARANCE sale section! You can find serious deals on some of the same items that are in the Anniversary Sale, just in different colors. (I find that somewhat hilarious!

) To check out all of my Nordstrom Anniversary Sale picks in many of the major categories, click HERE.
NYDJ | Use code BYESUMMER at checkout for a whopping 50% off your order of wear-now, wear-later styles! Free shipping/returns.
SEPHORA | This is a biggie, y'all! Sephora is hosting a big "Welcome Back" Event August 14-23! There are huge savings and major deals for Beauty Insiders (that's their free-to-join Loyalty program) Beauty Insiders receive $15 off a $75 purchase, or $20 off of a $100 purchase with code  WELCOMEBACK.
What's up for you this weekend? Bob and I are going to celebrate his birthday!


That's right, our birthdays are just seven days apart! His actual birthday is next Thursday, but on that day we'll be traveling up to Idaho to see our daughter perform in Beauty & the Beast, Shrek, Scarlet Pimpernel, and Hello Dolly at Starlight Mountain Theater. She's been performing there all summer! (They're blissfully COVID-free in the mountains of Idaho!)
We saw her in Beauty & the Beast and Shrek earlier this summer when we took nine family members aged 21-81 on a big ole' multi-generational trip up there, but this time it's just the two of us. We're excited for a little getaway in the cool mountain air!
Blessings,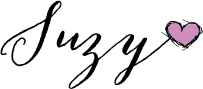 The post What's Up, Weekend | Birthday Week, Makeover, Nordstrom Order + More appeared first on Empty Nest Blessed.