Pelican G5 RF Field Wallet review – safe EDC carry for your cash RFID cards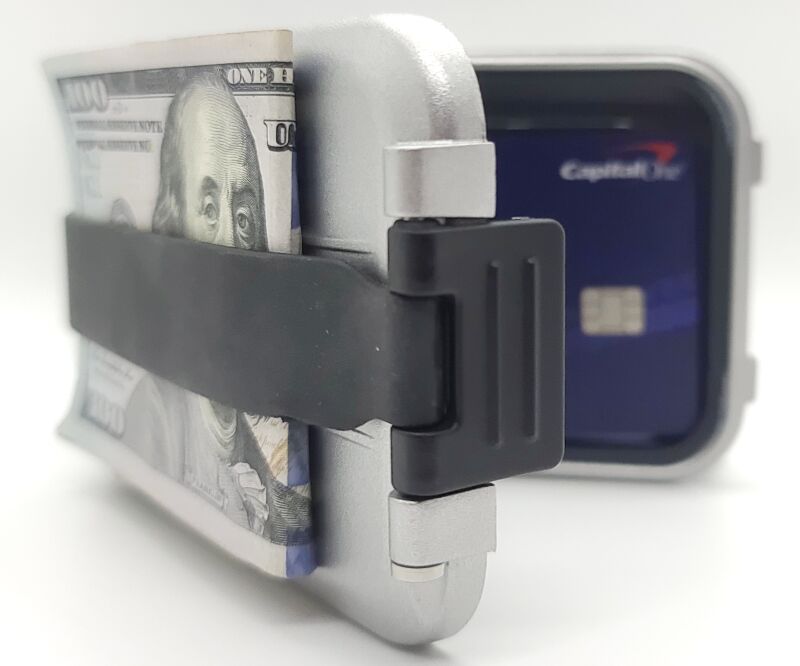 REVIEW – Hackers are always in the news.  One of the latest schemes is RFID skimming where an electronic reader in close proximity to an RFID-enabled card, like a credit card, reads the pertinent payment information from the card.  This allows the thief to perform contactless transactions as if they had tapped the physical card at a contactless terminal.  You can request a non-RFID card, but then you lose that cool and convenient tap-to-pay feature.  Pelican, the maker of a zillion awesome waterproof and nearly indestructible travel cases has an answer with their new G5 RF Field Wallet.  Let's see if it delivers the dry, radio silence that it promises.
What is it?
The Pelican G5 RF Field Wallet, or wallet for short, is a waterproof, RFID blocking, sealed wallet.
What's in the box?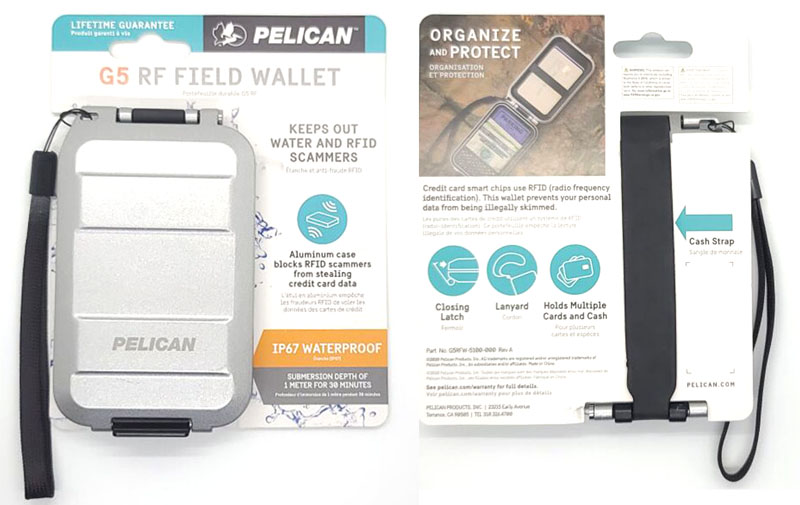 Technically, there isn't a box.  The wallet comes mounted to a display hanger card. The card displays all the features of the wallet.  The wallet comes with its wrist strap attached.
Hardware specs
The outer shell is all aluminum and RFID-blocking. When closed, the Pelican G5 RF Field Wallet is rated IP67 waterproof at depths of one meter for 30 minutes. It is available in silver or black aluminum finishes.
The wallet is just about five inches long.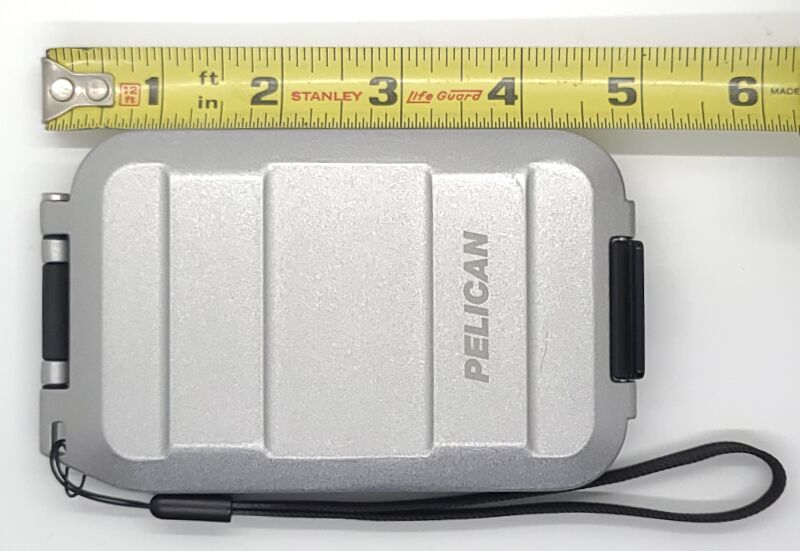 It is just shy of three inches wide.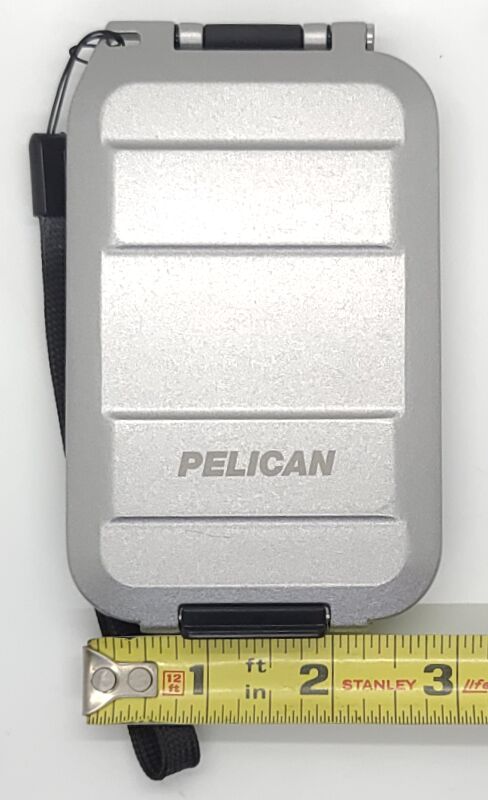 At about 0.625 inches deep, it is reasonably thin.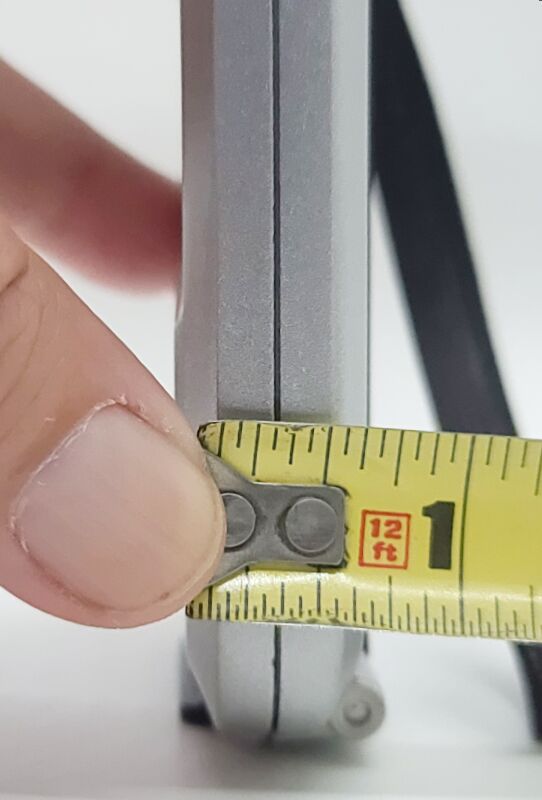 It weighs in at 5.3 ounces, just over the 4.9-ounce weight of my regular wallet.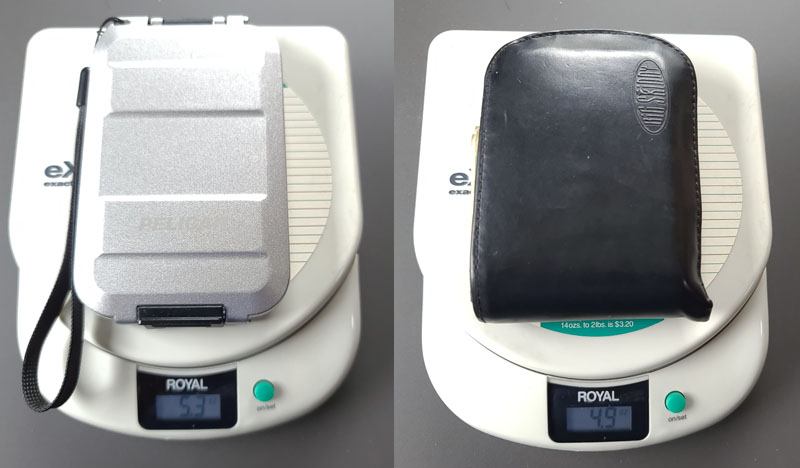 Design and features
Seeing dimensions is one thing.  Here is a more practical measure – it fits nicely in the hand.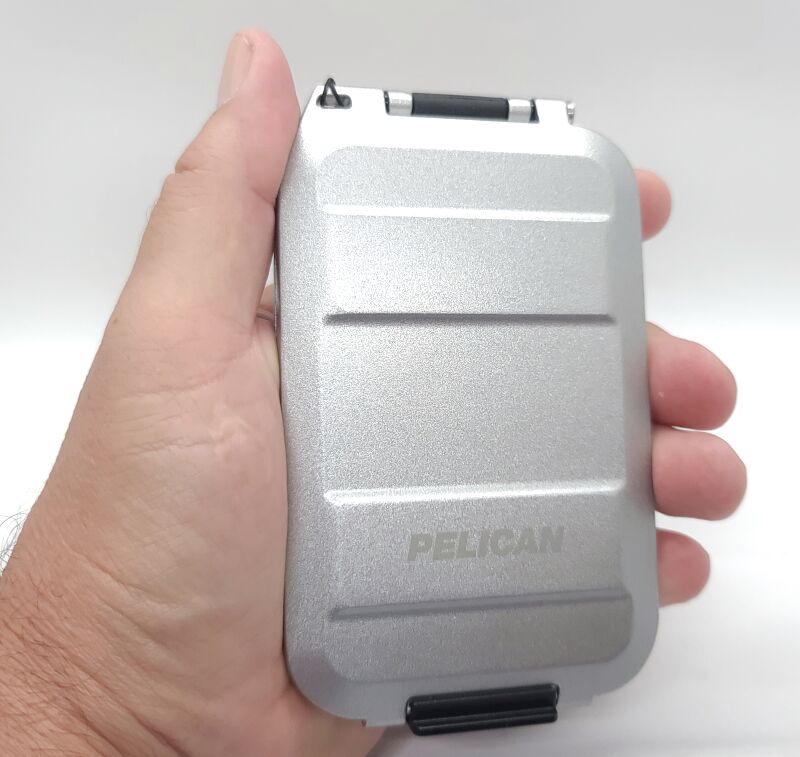 It's not small, but not overly large.  Here's a size comparison to my regular wallet.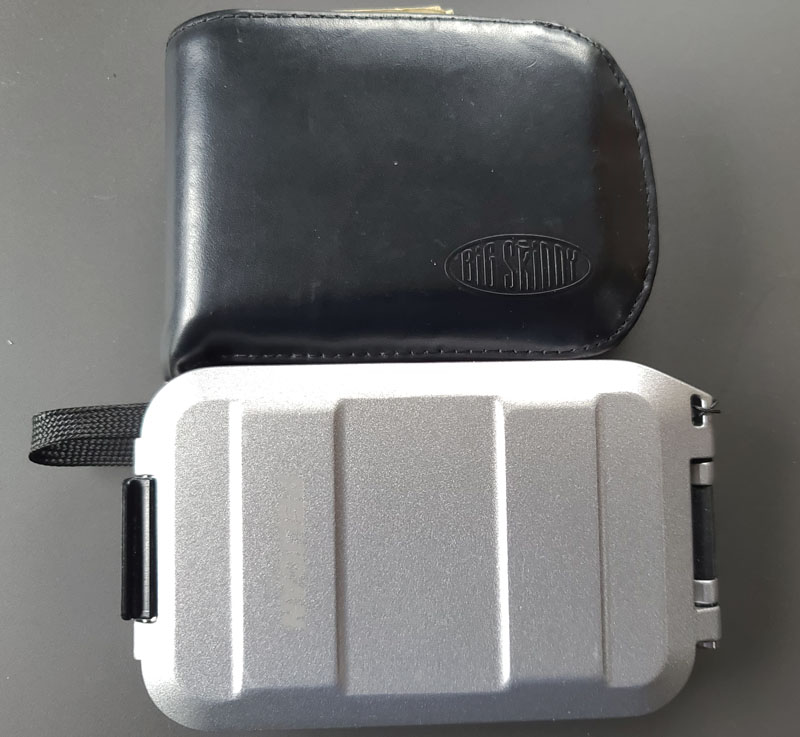 The front of the Pelican G5 RF Field Wallet features the Pelican logo and a ridged design.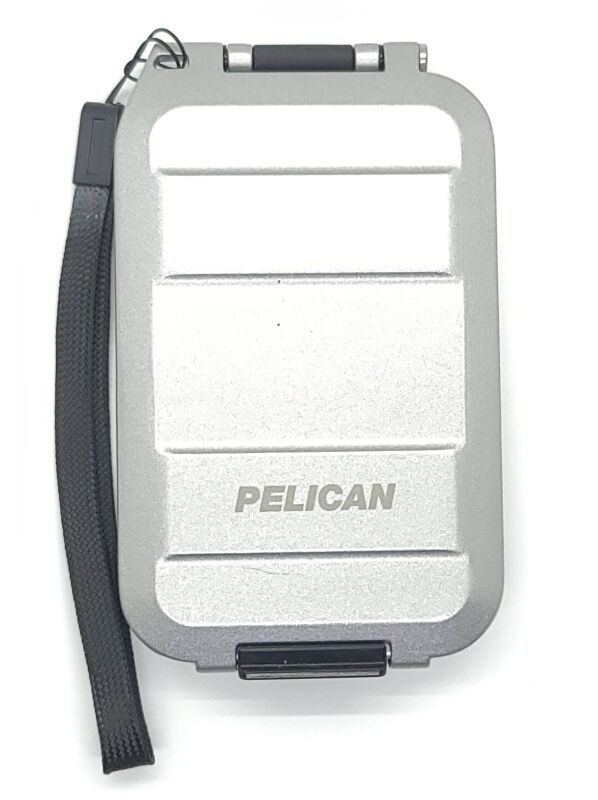 The back is smooth and features a rubber cash strap.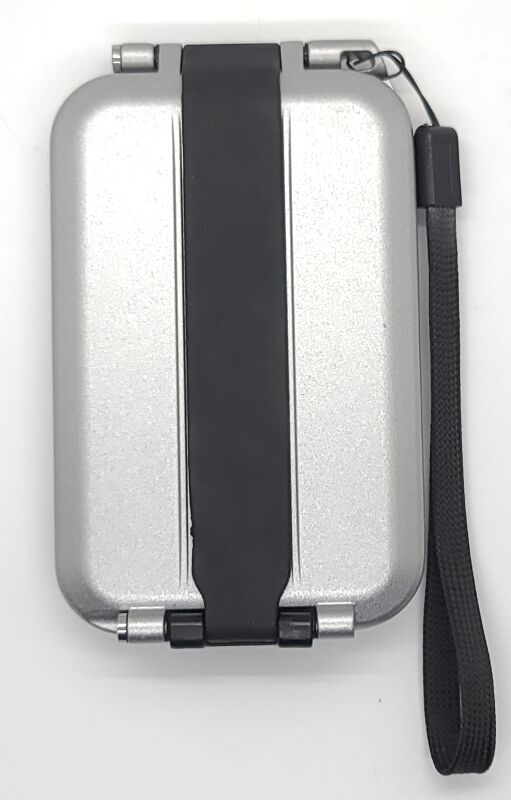 The strap is nice and grippy and relatively tight so your bills will be securely held on the wallet.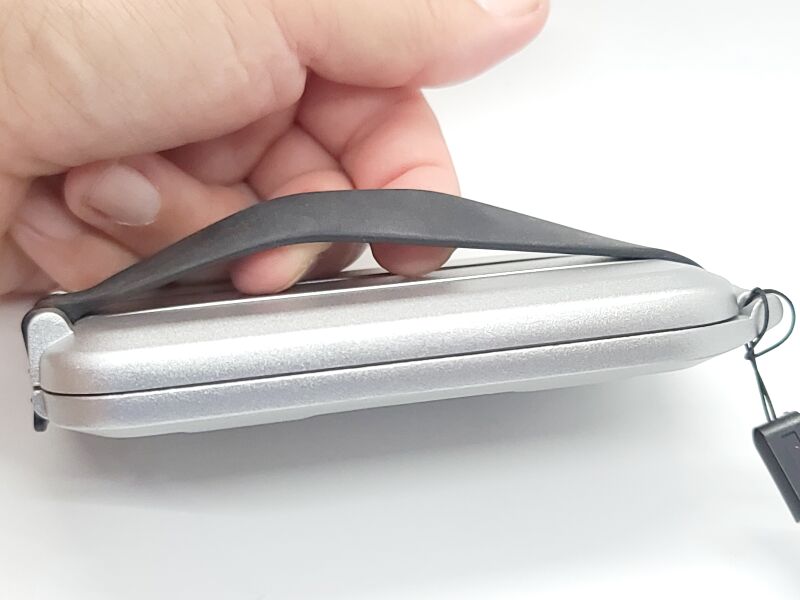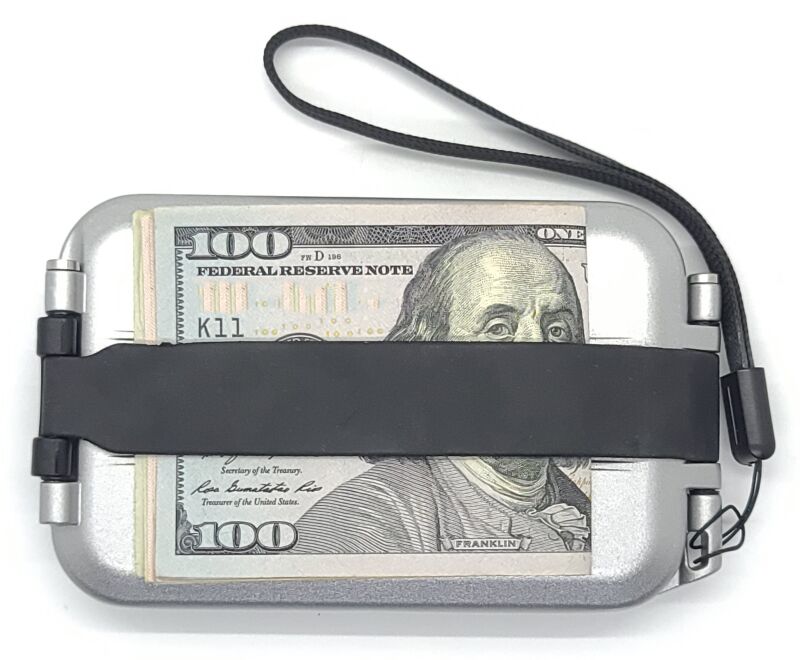 The hinge is beefy and sturdy.  You can also see the wrist strap's attaching loop.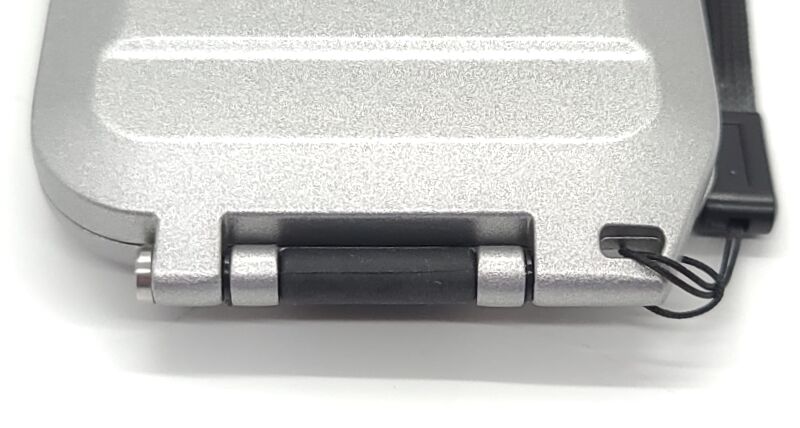 At the other end, we find the closure clip.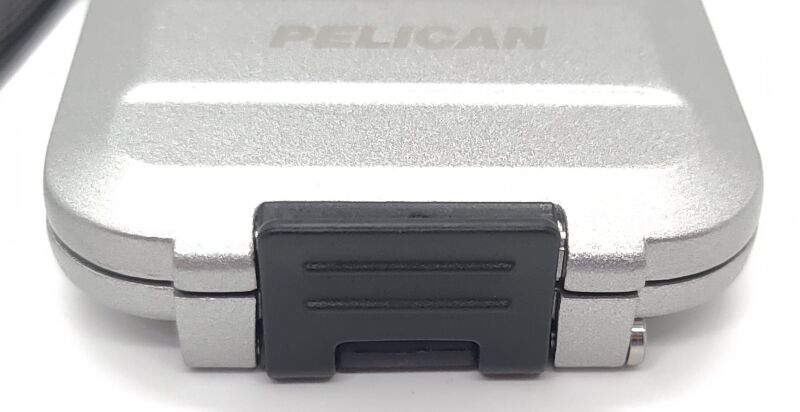 The clip opens from the top.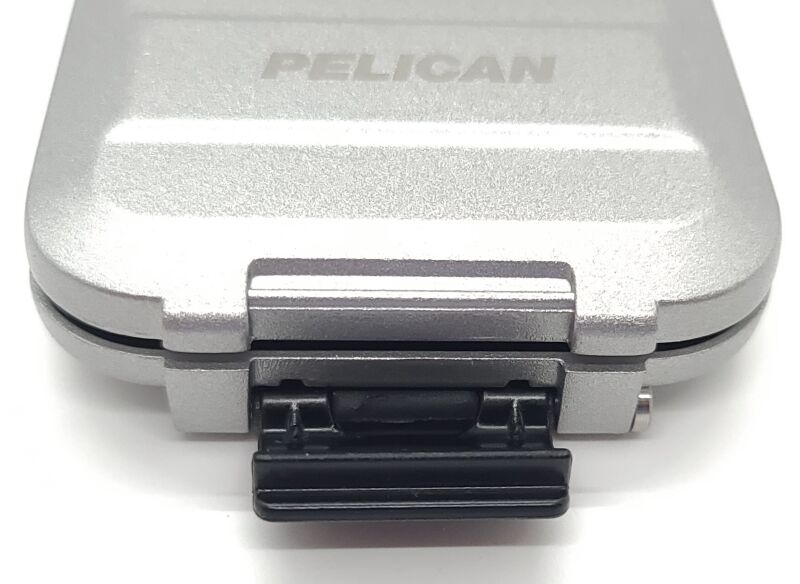 Opening up the Pelican G5 RF Field Wallet, we see two sides with different designs.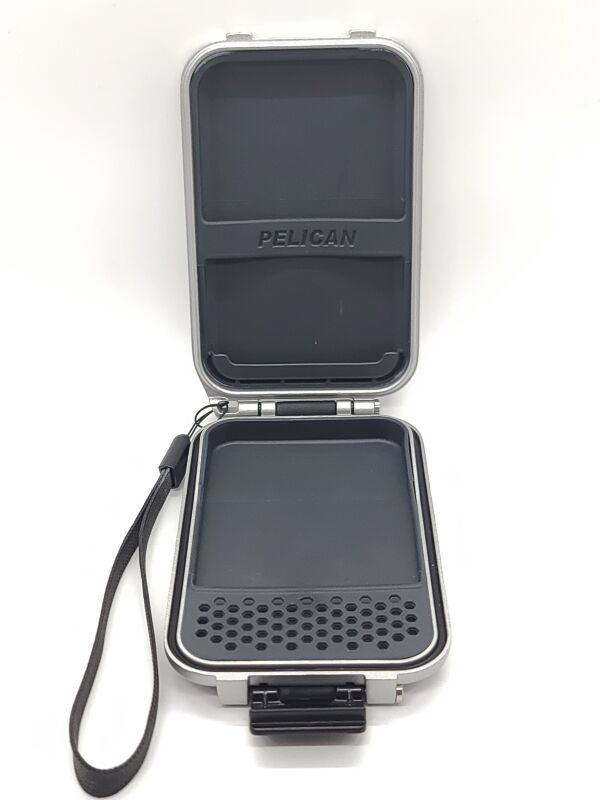 The top features a Pelican-logo rubber strap and a small bottom tray. This is designed to hold cards and quarter-folded bills securely.  The bottom features a perforated bottom tray that can hold quarter-folded bills and cards. Around the outside edge of the top, you can see a raised ridge.  That ridge seats into the channel around the outside of the bottom.  That channel contains a rubber bead.  The ridge seating onto that rubber bead creates the IP67-level waterproof seal.
Performance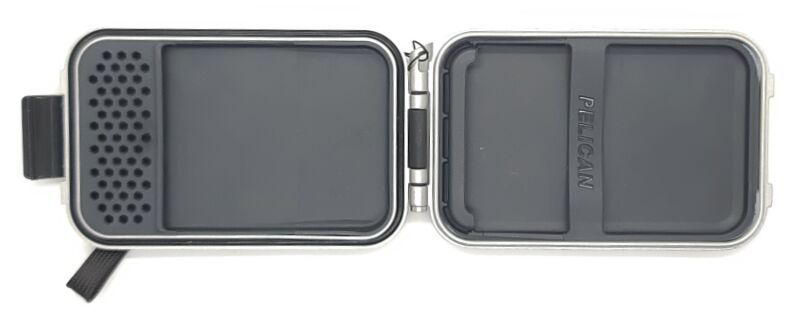 Let's stuff this thing and see what fits!

Each side can hold 7-8 cards.  Putting that many under the strap will make it a little challenging to pull a single card out. In addition, you can quarter-fold 5-10 bills and hold them securely. Bills that are folded in half are too wide for this wallet.
I had an issue with the wrist strap.  Here I am, slipping it over my medium-to-large hand.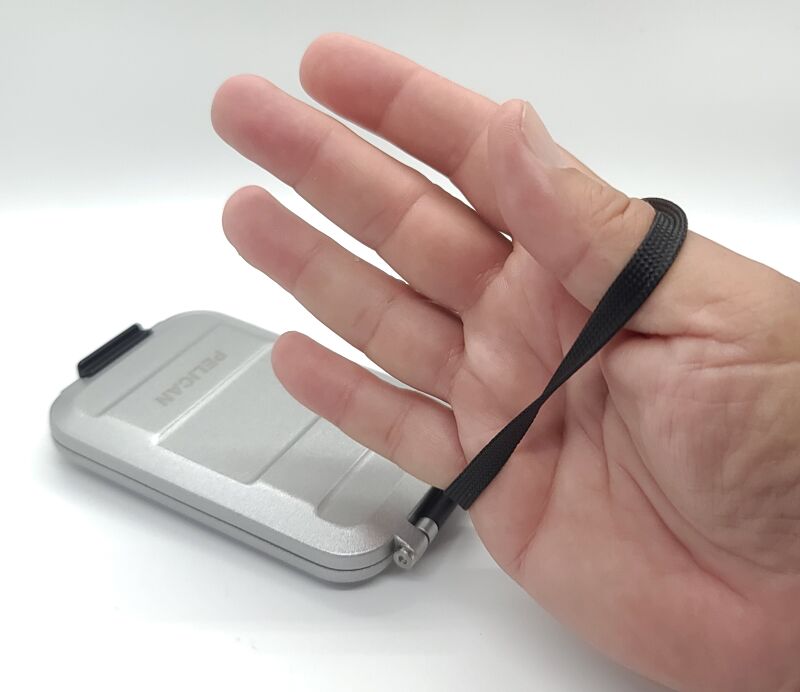 As you can see, the strap is quite tight, no matter how I position my thumb.  With some wiggling, I could get it over my hand onto my wrist, but it wasn't easy.  I'd like to see a slightly larger strap with a cinch.
The smooth aluminum finish allowed the Pelican G5 RF Field Wallet to slip easily into my pants pocket.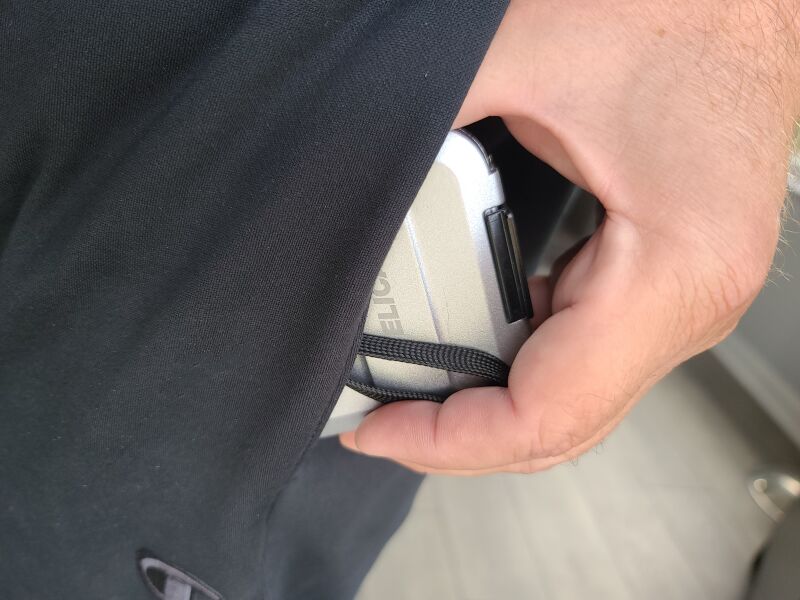 I liked that the rubber cash strap caught a little bit, making it more difficult for a pickpocket to swipe unnoticed. Carrying it was certainly as comfortable as carrying my regular wallet.  I'm a front pocket carry kind of guy, and this works well in that scenario.  If you're a back pocket wallet carrier, this might be a bit too rigid when you sit.  I guess it all depends on the sensitivity of your derriere. Tossing it into a pack or purse would work well too.
The clip was another item I had issues with.  No matter how hard I pushed, I could not open it with one thumb.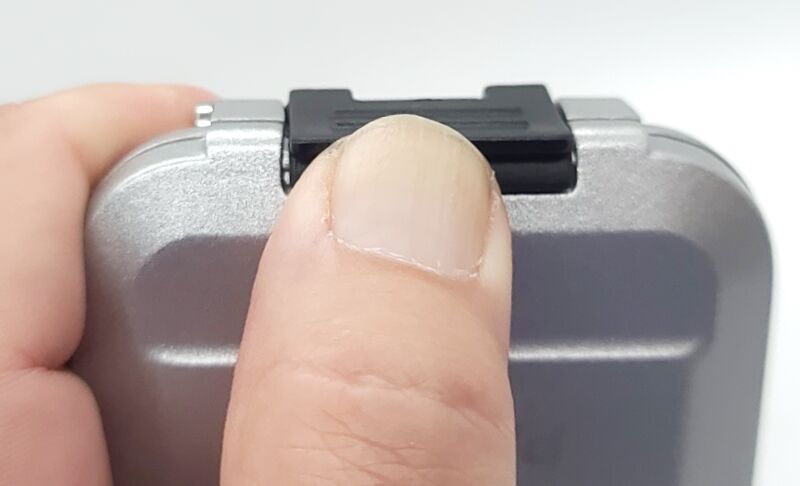 I had to put a thumb on each corner of the clip and still really push. Closing it was a little easier and it closed with a loud *snap*.  Perhaps it will loosen a bit over time, but with somewhere approaching 100 open/close cycles, it was still super tight.
Pelican claims that once you close the wallet, it fully blocks RFID signals.  Let's see!
I live in a community with entry gates.  To open a gate, we wave our RFID entry card in front of the reader and the gate opens.  I whipped my card up to the reader – actually, as soon as I got it within about four feet, the light turned green (too darned fast for me to capture) and the gate opened.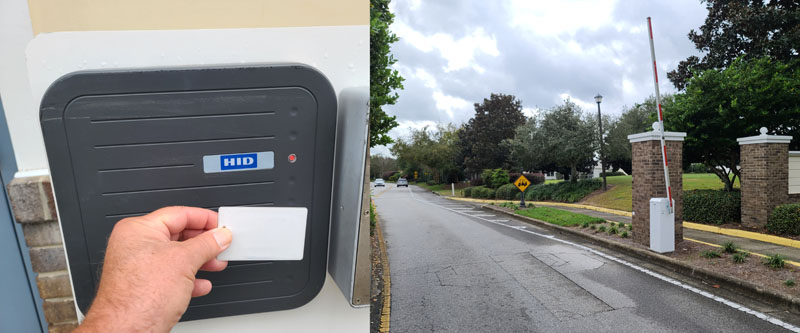 I placed the card in the Pelican G5 RF Field Wallet and snapped it closed.  No matter how I waved the wallet or how close I got it to the reader, the reader would not pick up the card's signal.  RFID blocking?  Check!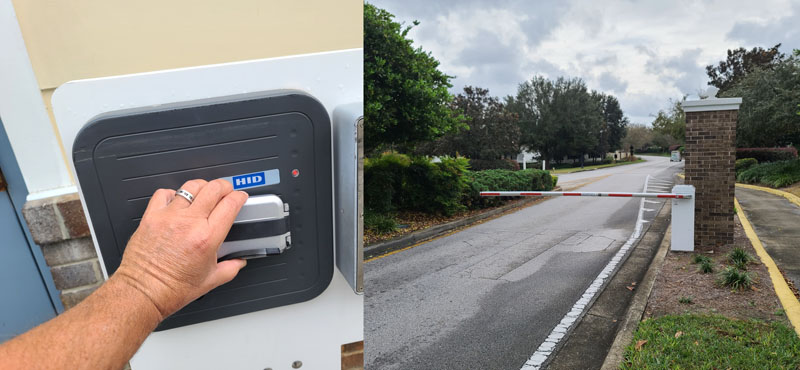 Finally, let's test the IP67-ness!  I don't have a container that is a meter deep. I opted for a stockpot with about six inches of water in it.  I loaded the wallet with a folded-up facial tissue and dropped it into the water.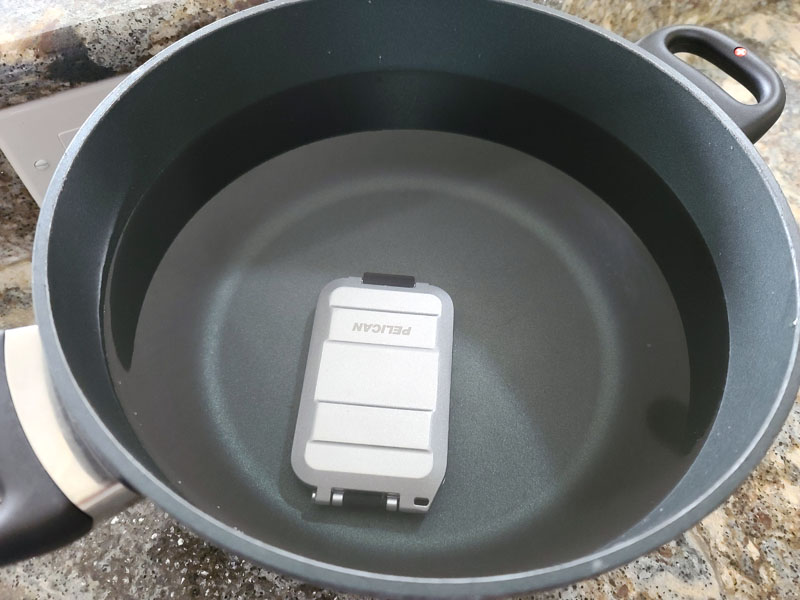 One thing I noticed was that it floated, at least for a minute or so.  The clip end of the wallet rose to the surface of the water and stayed there for a bit. Then, it sank to the bottom.  Perhaps small air bubbles outside the seal caused it to float before they were released from the wallet. Or, was the wallet leaking water into the inside and that's why it sank?  My tissue inside the wallet should reveal the answer.
The IP67 rating says that it should remain watertight for at least 30 minutes in up to one meter of water.  I left it in six inches of water for 45 minutes. Let's check the tissue for evidence of leaks.
I opened it up and found a tissue marred with a single drop of water.  That drop of water came from my still damp hand after I fished the wallet out of the pot, not from any leak.  My fault, not the wallet's fault. So far, so good.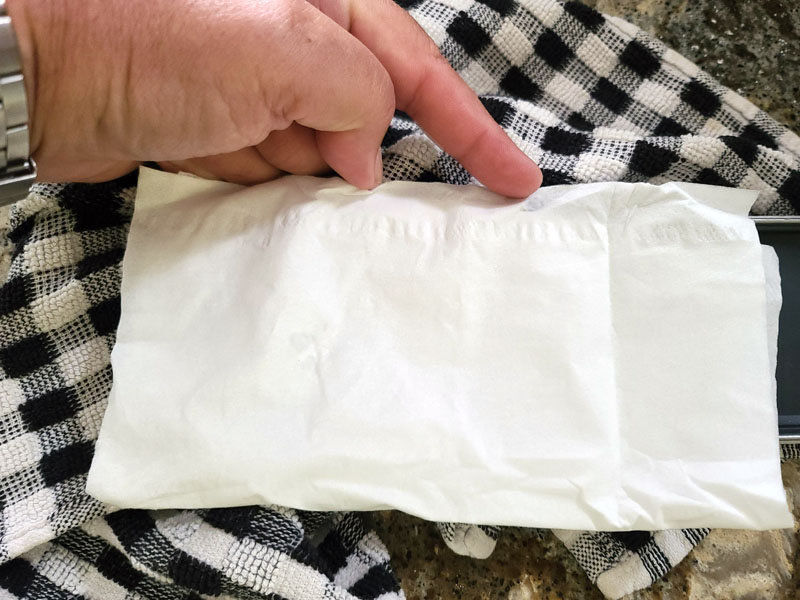 Next, I examined the entire inside of the wallet.  I couldn't find a drop of water anywhere. It was as dry as it was when I closed it up. Waterproof?  Check!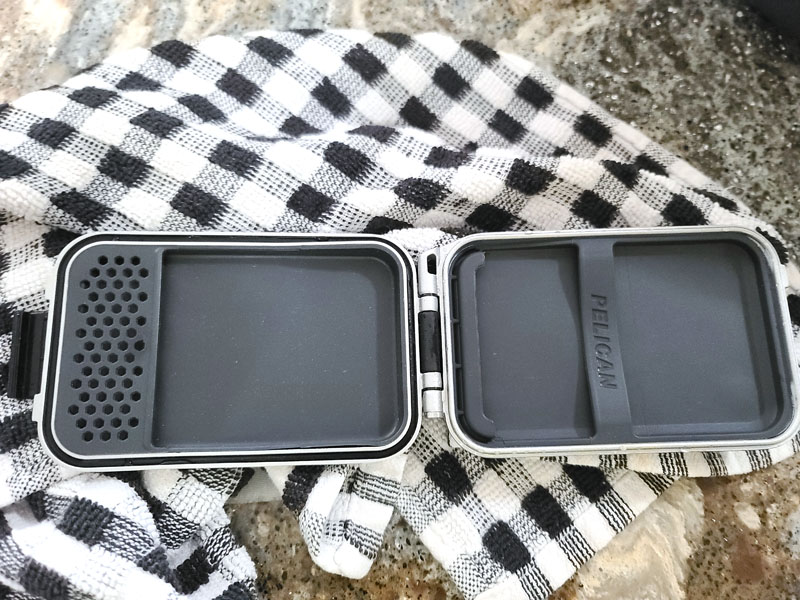 I think the IP67 rating claim sounds entirely plausible. I can't explain why it floated for a minute, but that could be a good thing if you drop it in the water.  You might be able to retrieve it from the surface before it sinks to the bottom.
What I like
Very well made
Fits well in a pocket
Blocks RFID signals
Waterproof
Large capacity
What I'd change
Make the strap a little longer and add a cinch
Make the clip a little easier to open
Final thoughts
If you're looking for a secure, RFID-shielded, waterproof wallet, look no further than the Pelican G5 RF Field Wallet.  With an easier-to-open latch and a wrist strap that fits more wrists, it would be a nearly perfect solution for the security-minded. Still, those are minor quibbles with an otherwise terrific security wallet.
Price: $39.95
Where to buy: Pelican and check their store on Amazon for a huge selection of protective gear
Source: The sample of this product was provided by Pelican.
Filed in categories: Reviews
Pelican G5 RF Field Wallet review – safe EDC carry for your cash RFID cards originally appeared on The Gadgeteer on November 27, 2021 at 1:21 pm.
Note: If you are subscribed to this feed through FeedBurner, please switch to our native feed URL http://the-gadgeteer.com/feed/ in order to ensure continuous delivery.