We were impressed with a celebrity duffel, while a heritage classic had room for improvement By Angela Lashbrook
Travel has a fair number of stressors to accompany its long list of lessons and benefits, but probably chief among them is the nightmare of the checked bag. Dragging myself from my tiny economy seat upon landing, only to discover that the airline has somehow lost my roller bag, and now I need to buy a week's worth of underwear and socks after putting my money through the EU exchange rate ringer, is 100 percent my worst nightmare. 
So instead, I've committed myself to being a carry-on only traveler, and for the past few years have used a "weekender" as my primary travel bag. A weekender bag is essentially a cooler duffel bag—you could consider it a duffel with vibes—and it's the ideal way to travel light. A weekender bag is, preferably, feature-rich and stylish, and falls within airlines' carry-on size limits. It should have at least two modes for carrying (usually, this means a removable crossbody strap and shorter shoulder handles).
We tried 10 weekender bags, from an ultrafashionable Longchamp to a utilitarian Patagonia. Though most of these bags have a lot going for them—and there were none we outright hated—we had a few that we loved so much, we're planning to take them on our own much-needed vacations. See how we evaluated these weekender bags, below.
The Results: Which Weekender Bag Is Right for You?
All our recommended weekender bags come with their own highlights and disadvantages; when choosing the right bag for you, it's important to look at each bag's pros and cons and decide accordingly. I'm very small (that's me at the top), so the No. 1 most important feature of any bag is that its crossbody strap is super-adjustable so I can shorten it to the point where I can comfortably carry it without it banging uncomfortably against me when I walk. If you're a more average size, you might be focused on whether the bag has a pass-through, so it can sit securely on the telescoping handle of a piece of luggage, or that it's super-durable, so it can be thrown around for years (or decades) without too much wear and tear.
Because weekenders usually lack wheels, they're often packable, while wheeled luggage—even soft-sided luggage—is not. Weekender bags have a more casual, transitional look than wheeled luggage or travel backpacks, so many weekenders (especially the smaller, "overnight" styles) look as at home on a commute to work as they do on the shoulder of someone waiting in the TSA checkpoint. They can also be carried via handles or across the body, and sometimes over a shoulder or as a backpack. 
To that end, we've categorized our favorites according to their strengths—with one that (pretty much) has it all. 
Editor's Pick: MZ Wallace Travel Jim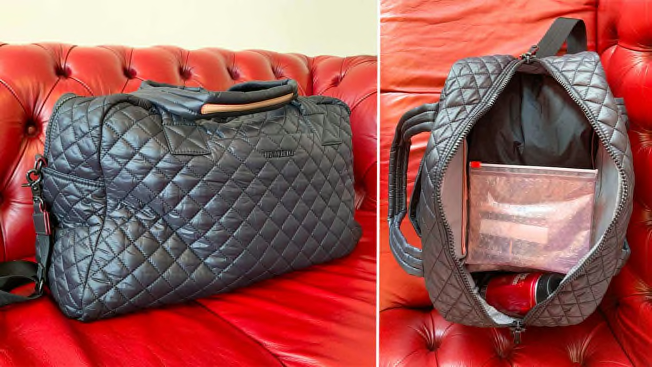 Photos: Angela Lashbrook/Consumer Reports
Price: From $275
Where to buy: Bloomingdale's, MZ Wallace, Neiman Marcus 
Size: 19x12x8 inches*
Primary material: Recycled nylon
There's nothing fancy about this bag. It has no unusual or surprising features (such as a shoe compartment or an expandable size); it doesn't come in trendy vivid colors, it doesn't have a designer legacy. But it is a great weekender bag. Perfectly sized for a long weekend yet still lightweight, it has exceedingly comfortable, padded handles, a highly adjustable removable crossbody strap (with much gratitude from yours truly, a shorty who often finds that bag straps are far too long) with leather trim secured to sturdy metal hardware, and a big, supersmooth plastic zipper that didn't catch. When I packed this bag, there was a small amount of room to spare—enough for me to buy a couple of T-shirts, perhaps, or a last-minute book purchase at the airport. Its interior and exterior pockets are thoughtfully designed, with a detachable interior nylon pouch (perfect for sneakers or sandals); a large padded back pocket for a book, a Kindle, or a tablet; and a zippered pass-through that can double as a pocket when not in use. A taller external pocket is ideal for a water bottle, and it has one of my personal favorite features that, in my opinion, every bag should have: a key leash (how distressing is it to get home after an exhausting flight or drive, only to spend 5 minutes digging around in your bag for your keys?). 
The bag is made from water-resistant, stain-resistant recycled nylon, and in case of a spill, the company provides detailed instructions for cleaning. The Travel Jim is somewhat compressible: It folds down well horizontally with no wrinkling, but its structured bottom is not bendable. It comes with a dustbag, which is recommended when not in use to preserve color and keep it, well, dust-free. With some stipulations, MZ Wallace will repair items.
It has two flaws, which are really not that much of flaws as much as preferences: It's pricey, and its satiny quilted exterior might not appeal to all tastes.
The Best Bag for Frequent Travelers: Patagonia Black Hole Duffel Bag 40L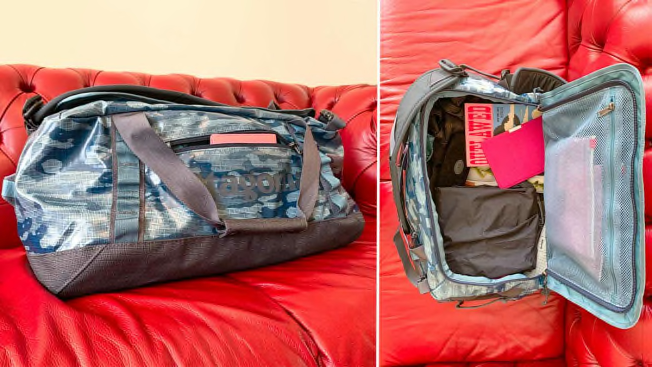 Photos: Angela Lashbrook/Consumer Reports
Price: $129
Where to buy: Patagonia, REI
Size: 19x9x10 inches
Primary material: Recycled polyester ripstop
For those who plan to spend a lot of their vacation on their feet, traipsing through the literal or urban jungle in the mud and rain with their belongings on their back, the Patagonia Black Hole Duffel is the bag for you. (The Mini version was our No. 1 pick in our travel backpack evaluations.) Constructed from water- and abrasion-resistant recycled polyester that looks hardcore enough to stop any sharp edges short of a tiger's claws, this duffel is light, packable, and comfortable.
Unlike other bags we evaluated, this duffel converts into a backpack rather than a crossbody, with adjustable, padded backpack straps that make the bag comfortable to carry and easier to carry long distances. When packed, I had some room left over for anything I might pick up while on my trip. However, it has only a couple of pockets—a mesh sleeve in the opening flap and a compartment, suitable for dirty laundry or perhaps a wallet, passport, and phone, that is accessible from both the inside and outside of the bag. This same pocket can be used to (very) tightly compress the bag for storage.
You also need to pack this bag mindfully. If you plan to wear this bag as a backpack, the contents will shift down, so keep this in mind if you're carrying anything that wrinkles easily. And in its backpack form, the zipper faces out, which makes it easier for pickpockets to unzip the bag and remove the contents while you're wearing it.
On the off chance that you are attacked by an animal that tears through the hardy bag's material, Patagonia will repair almost anything. If you'd prefer to fix the bag yourself, Patagonia can send you a patch kit.
The Work-to-Play Bag: Away The Everywhere Bag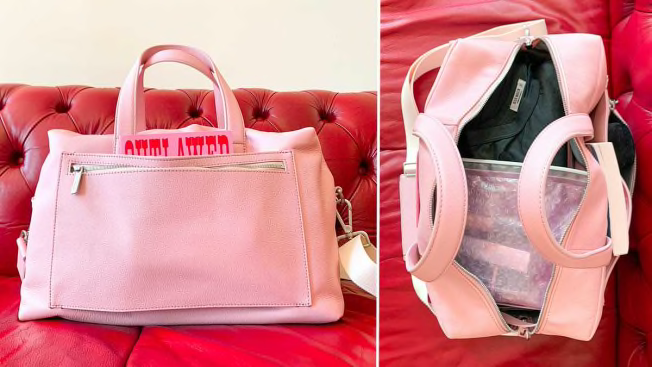 Photos: Angela Lashbrook/Consumer Reports
Price: $245
Where to buy: Away
Size: 16x10x6 inches
Primary material: Leather
Away's cotton candy pink leather weekender bag has a glamorous vintage vibe—with old-school, durable quality to match. This smaller, "overnight" style duffel is well-organized and comfortable to carry, with a padded crossbody strap, an interior laptop sleeve, a key leash, and a zippered pocket, perfect for a passport or a tablet, atop a pass-through. It also features a zippered pocket along the bottom of the bag specifically for umbrellas. This duffel, being on the littler side, could do double duty as a large work bag or even a diaper bag. Its charming design would look equally appropriate with either a suit or jeans, so if you're hopping on a weekend trip after a morning at the office, or need to run directly from a flight to a dinner meeting, this bag is the ideal companion.
Because this bag is made from water-resistant leather, it will take a beating beautifully (though I would argue that waxed canvas—see the L.L.Bean weekender bag we also reviewed, below—similarly looks good when it's a bit travel-worn). The adjustable crossbody strap is adjustable enough that yours truly wore the bag comfortably nestled into the small of my back.
I was just able to fit my long weekend's packing list, though, and I had to leave out my rain jacket and water bottle. For this reason, the Away The Everywhere Bag is a better fit for true weekend trips or light packers.
Away has a limited one-year warranty.
The Stunner: Cuyana Triple Zipper Weekender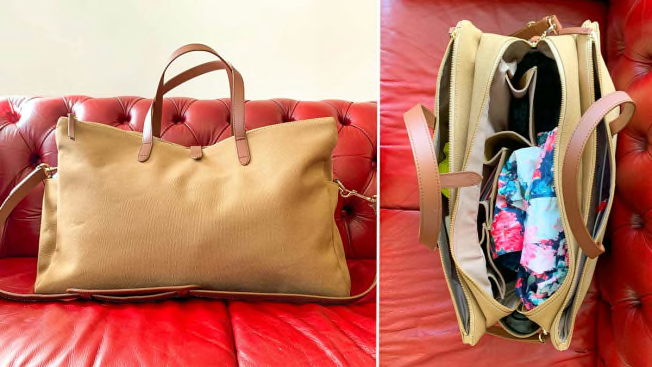 Photos: Angela Lashbrook/Consumer Reports
Price: $328
Where to buy: Cuyana
Size: 19.5x12x6.5 inches
Primary material: Cotton canvas
Cuyana has been making gorgeous, practical accessories since 2011, and the handful that I have—a medium-sized purse, a tote, and another weekender bag in a different style—have never disappointed. The sustainably minded company (it recently launched a resale initiative; the company says 96 percent of its materials have third-party sustainability certifications and it's shooting for 100 percent this year) has a new winner on its hands (and our shoulders) with its beautiful, functional Triple Zipper Weekender.
With the exception of the Béis, the Cuyana weekender bag has the best organization of any bag we tried. It has three large primary compartments (hence the triple-zipper name) and a deep, narrow pocket on each side, ideal for water bottles. Inside the primary compartments, you'll find three sleevelike pockets that will fit a large continental wallet, a Kindle or paperback, sunglasses, a passport, etc. While packing, I appreciated that I had a large separate compartment for shoes or dirty laundry, and another that would fit a laptop (though there's no protective padding). There was also plenty of room left, should I decide to throw in an extra sweatshirt or book. Since the bag is made from cotton, though, it won't wear as well as other materials, nor will it wipe clean as easily as the faux leather Béis shoe compartment or the MZ Wallace removable nylon sleeve. You might want another thin bag for your dirty shoes to keep the bag's interior in pristine condition. It also has a pass-through, so you can snuggle this bag atop your roller luggage. 
This bag is also, simply, beautiful. It has gold-colored zippers with leather pulls that slide smoothly and match prettily to the dark camel canvas colorway, which the company calls "sand/chestnut," that we ordered (the bag also comes in black and a soft gray). The canvas is thick but not exceedingly heavy, and the gold metal hardware adds a refined air.
Cuyana's bags have a two-year warranty (outside of normal wear and tear), and the company will repair items (for a fee) that are outside the warranty. 
The bag has a fatal flaw, though, at least for those on the petite side—the otherwise high-quality leather crossbody strap did not adjust to a short enough length for me to wear it across my body comfortably. I reached out to Cuyana's PR department to ask if the company would punch additional holes into the bag's strap at a customer's request, but I didn't receive a response. I'll be buying this bag for an upcoming trip—but before I leave, I'll take it to the cobbler, who will be able to easily add a bunch of extra holes so I can run in panic across the airport terminal to my flight without having the bag whack painfully against my hip. (The company also sells a separate, more adjustable leather strap, which may be preferable for those who don't have a cobbler nearby.) Anyone taller than 5 feet, 3 inches need not concern themselves with this.
The Most Clever Design: Béis The Weekender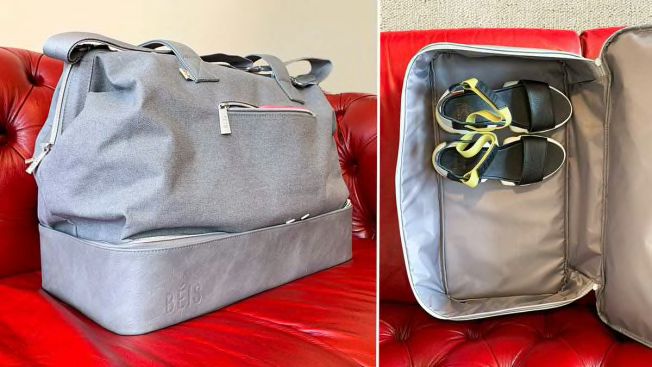 Photos: Angela Lashbrook/Consumer Reports
Price: $98
Where to buy: Béis, Nordstrom, Revolve
Size: 19x9x15 inches
Primary material: Cotton canvas (beige and gray) or polyester (black)
The Béis weekender bag is a thoughtfully designed, affordable pick that, while not 100 percent flawless, has a lot going for it. The gray colorway we purchased is made from a thick, sturdy cotton canvas, with a large bottom shoe compartment made with a smooth faux leather that comfortably fits four pairs of my size 6 shoes. It doesn't have the most pockets of all the bags we tried, but the pockets it does have are thoughtful and practical. Inside, a large padded sleeve makes a safe spot for a laptop. Opposite the laptop sleeve, there is one large zipped pocket, where I fit my two toiletry bags, and two smaller pockets, perfect for a small tablet like an iPad mini. Its most clever design feature is the structured frame opening, which stays wide open without assistance while you pack. When I finished packing, I had a bit of space left—room for a couple of T-shirts, maybe, and another pair of shoes in the shoe compartment.
The rolled, faux-leather handles are long and can fit over the shoulders, if desired. It has a lightweight, highly adjustable removable crossbody strap that I was able to shorten to my desired size. Because the shoe compartment is wide, as well as structured and firm, it makes the bag rather unwieldy if you're going to be sprinting across an airport terminal.
The bag features a zippered pass-through, allowing you to slide the bag onto your rolling suitcase handle or zip it closed and use it as a pocket.
While it's well-designed, there are a few noteworthy issues that keep the bag from being our No. 1 pick. Likely because of the structured shoe compartment, the bag is a little heavy. When it's totally full, it has a slightly schlubby look, with the top of the bag sinking into and spilling out like a muffin top over the shoe compartment. This is a small price to pay for the shoe compartment, in my opinion, but it's worth noting if you want your packed-to-the-brim bag to have a sleeker look and are willing to forgo the big space for your shoes. 
Béis does not have a warranty for weekender bags. It has a 90-day return policy.
The Best Basic Weekender: The L.L.Bean Waxed Canvas Duffle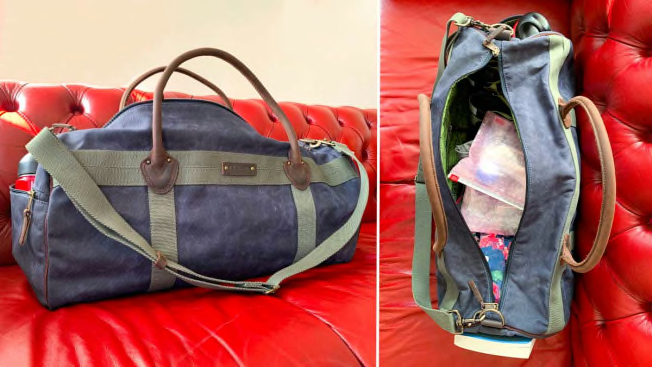 Photo: Angela Lashbrook/Consumer Reports
Price: $159
Where to buy: L.L.Bean
Size: 21x10x10 inches
Primary material: Waxed cotton canvas
My husband likes this bag the best. "That's nice," he offered, when I put it on for the first time. Indeed, this weekender bag is in the true L.L.Bean tradition: It has minimal features but hardy materials and a rugged look, and would be right at home thrown in the back of a Jeep en route from a camping trip. It's the largest weekender bag we tried (with the exception of the Longchamp, which is expandable), so it's a good option for slightly longer trips or cooler-weather travel. When I packed for my long weekend, my warm-weather clothes fit with plenty of room to spare.
The bag has only a handful of pockets: one on each exterior side of the bag, for a phone, a tablet, or a paperback (a water bottle will fit, though because the pocket is short and spans the width of the bag, half the water bottle will be exposed and may tilt awkwardly in one direction), and an interior zipped pocket for a wallet or passport. It has handles that are long enough to be worn on the shoulder, should that be your preference, as well as a thick, heavy-duty removable crossbody strap. The bag itself was a bit long for me to carry it comfortably—I'm not very tall and the bag bends in the middle because of the lack of space between my shoulder and waist. My husband, who's almost a foot taller than I am, found it comfy to slung across his chest, with the bag stretched across his lower back in a more normal fashion.
In the process of evaluating and photographing this bag, I threw it around some, kicking it out of the way when I had to take photos of another bag and, at one point, tossing it to the floor to make room on the bed for my dog. It bore all this without complaint; the resulting scuffs and scratches on the waxed canvas look like they belong there. L.L.Bean doesn't give much information on how to clean their bag, so I asked Richard Handel, a test project leader at Consumer Reports, about the best way to keep this bag from becoming disgusting or tired-looking. "The wax treatment should reduce the occurrence of staining, but also adds to the character of the fabric," he says. Dirt can be brushed away with a soft-bristled brush, and if that doesn't work, spot clean with cold water. If necessary, step it up with a mild, nondetergent soap.
L.L.Bean has a very generous warranty and return policy. It will accept returns for a refund for almost any reason within a year. After a year, it will accept returns for items that are defective due to materials or craftsmanship.
The Weather Wonder: Dagne Dover Landon Carryall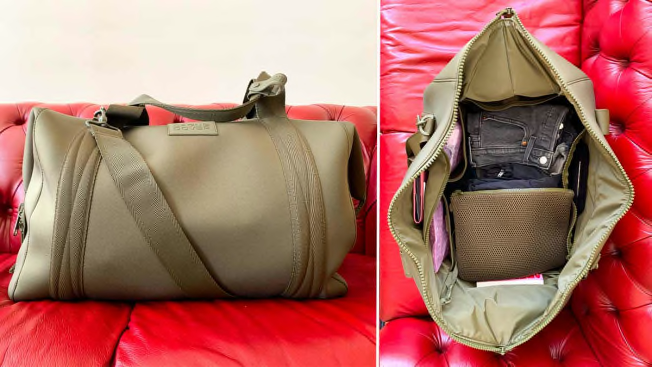 Photos: Angela Lashbrook/Consumer Reports
Price: $230
Where to buy: Dagne Dover, Nordstrom
Size: 18x12x10 inches
Primary material: Neoprene
This roomy weekender bag is made from neoprene, a synthetic rubber that has historically been used in wetsuits. This means that the Dagne Dover Landon Carryall (we evaluated the XL version) makes for an excellent pick if you're, for whatever reason, running around with your luggage in the rain. I spilled a glass of water on it while writing this article, and I can say with authority that this bag is, indeed, water-resistant; most of the water slid right off the bag and directly onto my floors, while a small amount darkened the fabric for about 15 minutes before fading. It did not soak through. 
Inside, it has six large mesh pockets, a smaller zippered pocket, and two removable sleeves: a nylon pocket that I used for my sandals and a mesh pocket for my Kindle. One of these mesh pockets, zippered, is a good spot for dirty laundry, while the others, which have hook-and-loop closures, would fit a tablet each, should you happen to have lots of those. Books would also work here. The bag's opening is expandable: when you're packing it, you can unsnap the zipper from where it connects near the bottom of the bag, and pin it back down when you're in transit. The interior compartment left me plenty of space after I packed it for a few extra items, such as a sweatshirt or baseball cap. It was comfortable to carry crossbody, and the handles have a rubber snap to hold them together.
Neoprene creases and pills, though, so this bag requires special care to keep it in tip-top shape. I had piled this bag on a shelf among a few others, and when I retrieved it after a week, it had wrinkled. The company says that a fabric steamer will easily remove the creases, though after a few days, the wrinkles on my bag disappeared (an enviable occurrence, frankly). A fabric shaver will take care of the pills, according to Dagne Dover.
Dagne Dover has a limited one-year warranty.
The Best Bag For Teens and Tweens: Herschel Novel Duffle
Photos: Angela Lashbrook/Consumer Reports
Price: $90
Where to buy: Amazon, Herschel 
Size: 19.5x10.5x11 inches
Primary material: Polyester
If you're traveling with older kids and teens, the Novel Duffle Mid Volume is the bag for them. It comes in lots of fun colorways, including neon yellow, a bright peachy pink, and tie-dye (!!) that kids will love. It's also light and affordable, and it has an overall youthful look. It features faux-leather handles and a padded crossbody strap, and both my husband and I found it comfortable to carry crossbody.
It isn't quite as high-quality as the other weekender bags we tried, though. While almost every other bag we tried came with metal clasps that connect the crossbody strap to the body of the bag, the Herschel has lightweight plastic connectors that feel flimsy. The zipper is thin and slow, requiring some effort to open. It has a sleeve for shoes that opens from the outside of the bag and protrudes in, which is helpful provided that you remember to pack your shoes before everything else. (I made this mistake and had to unpack the bag, place my sandals in the sleeve, and return my clothes to the main compartment.) 
The polyester fabric is thin but water-resistant, so it's great for someone with the habit of not screwing the water bottle top on tightly enough when traveling. For a child with a love of fun colors and few concerns about the longevity and durability of their stuff, this is a good option. Herschel also has a lifetime warranty that covers manufacturing defects, which may alleviate some worries about quality.
Half-Baked Luxury: Longchamp Le Pliage Travel Bag Expandable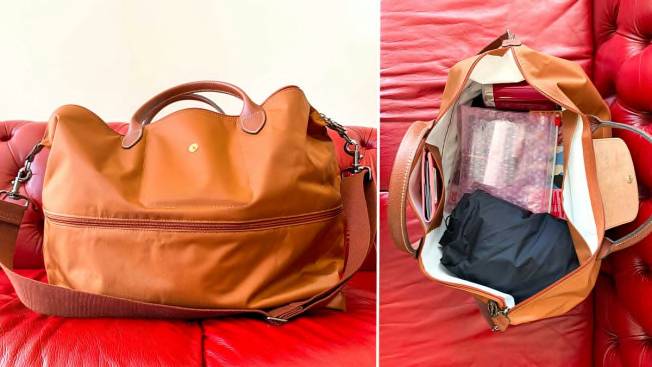 Photos: Angela Lashbrook/Consumer Reports
Price: $255
Where to buy: Bloomingdale's, Longchamp 
Size: 20x13x9 inches
Primary material: Recycled polyamide canvas
I had long been curious about the famous Le Pliage, Longchamp's iconic style of bag that can be seen on the arms of fashionable people the world over. The collection comes in many sizes, as a coin purse to a wheeled suitcase. And though I can't speak for the many other sizes of this style, a weekender bag might not be the ideal iteration: Its large size and lack of organizing compartments make this duffel somewhat like a travel-sized grocery bag. 
The Le Pliage Travel Bag is expandable: To make it bigger, you unzip the zipper that runs around the width of the bag and unfold the fabric that's bunched inside. Its smaller, zipped-up size conforms to airline carry-on dimensions, and it's still fairly roomy, fitting my long weekend's worth of clothes with room to spare. Its zipper is of average quality, not as slow and laborious as the Herschel but nevertheless a bit of a drag to use. It uses a nice-looking, shiny Longchamp logo for the pull, which adds a touch of glamor to an otherwise typical closure. It's made from thick, recycled polyamide canvas, which is water-, stain-, and wrinkle-resistant. 
The top handle is made from thick, sturdy-looking rolled leather, but the handle is short and will not fit easily over most adult shoulders. The woven crossbody strap is adjustable but long; I wasn't able to get it short enough, and carrying it so low gave me temporary shoulder and back pain. Unlike the Cuyana, whose too-long leather strap is quickly fixed at the cobbler, Longchamp's woven strap is not something you'd be able to easily fix. Longchamp does sell additional straps. 
To its credit, this bag is expandable, so if you take it on a short weekend trip and end up going on a shopping spree, there will be some additional space for your new additions (though its expandable form is larger than airline carry-on dimensions and, thus, is too large to be carried onto a flight). When folded and zipped into its smaller format, the bag buckles inward, creating large, awkward folds of fabric on each corner of the bag that makes packing the bag neatly more difficult. There are only two tiny pockets, each sewn into the top seam; when anything semi-substantial (i.e., heavier than a credit card) is placed in them, the walls of the bag crater inward, and must be held up while packing. Clothes and other items may end up in a confused jumble because of this bag's almost complete lack of organization features. Longchamp will repair damaged bags.
The Longchamp has a luxurious look, is expandable and foldable, and is made from durable materials. But its lazy approach to internal structure makes us unable to recommend it for serious weekend travelers.
The Budget Bag: Everlane The ReNew Transit Weekender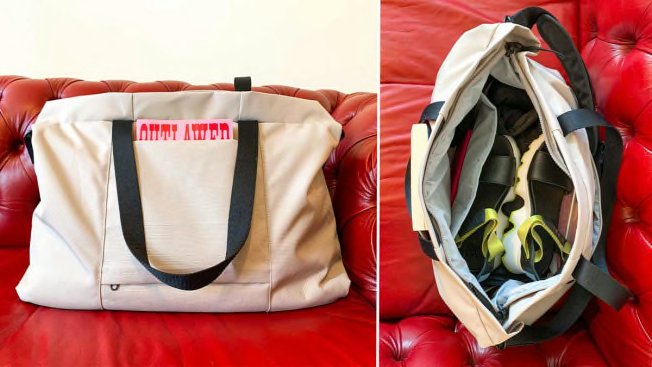 Photos: Angela Lashbrook/Consumer Reports
Price: $85
Where to buy: Everlane
Size: 20x11x9 inches
Primary material: Recycled polyester
We had a hell of a time getting this bag. We had to place two orders, because the company inexplicably canceled the first, and check in after a lengthy delay on the second. Customer service explained that warehouse restocking issues held up our delivery. Overall, it took almost two months for us to receive this bag. No other product that we ordered had such significant delivery issues. 
The bag itself is basic and budget-friendly. It's made from rough, water-resistant recycled polyester and has an adjustable padded crossbody strap and handles that are long enough to be worn over most shoulders. It has two external pockets: a zippered back pocket large enough for a tablet or paperback and an unzipped front pocket in a similar size. Inside it has a thinly padded laptop sleeve, a zippered pocket, and two water bottle pockets. Interior water bottle pockets are somewhat odd—they're usually external, which makes sense because water bottles can occasionally be damp or spill—but it's better than nothing. 
The Everlane bag is a decent option for those looking for a basic, affordable weekender. Though it offers few features, it packs up easily and is great for thirsty folks who drink a lot of beverages. It's around the same price as the Béis, and though it has fewer clever details than the Béis, it's also easier to carry if you plan to be moving fast. Be sure to plan ahead when purchasing, though—who knows when you'll actually end up getting it?
Our Criteria
We evaluated these bags from a variety of angles. 
Does it fit within airline carry-on size limits? Though a weekender bag may be often deployed on weekend trips powered by cars, a good weekender bag should play double duty as a carry-on—which means it needs to fit within airlines' particular sizing metrics. Though maximum carry-on dimensions can vary from airline to airline, generally speaking, most airlines require that carry-on bags are no larger than 9x14x22 inches, or a total of 45 inches added up. Weekender bags are soft-sided, so they can be squished to fit to airline dimensions—assuming they're not completely full. To play it safe, our top picks stay within this range, and if it doesn't, we make a point of calling that out.
Does it seem well made and durable? Luggage gets a lot of wear and tear. A good weekender bag should have quality construction, with heavy-duty hardware and straight and flawless stitching. It should be made from a fabric that is resistant to tearing, and it should be able to withstand some moisture, in case you get caught in the rain or have a spill inside the bag. "At the high end, leather is the best choice," says Ellen Lynch, a professor of accessories design at the Fashion Institute of Technology in New York. "It is soft, supple, and conforms well to the items on the inside. Canvas and ripstop nylon are both really good materials, both durable and easy to handle." Cotton is less supportive and will not wear well, she says.
"​​The zipper is critical too and is often the thing that breaks first," says Susan Sokolowski, a professor of product design at the University of Oregon.
Plastic zippers are durable and flexible, so they can stretch and rebound with a stretchy or overstuffed bag. When a plastic zipper tooth breaks, however, the zipper usually needs to be completely replaced. Metal zippers are less flexible but also easier to fix in a pinch by threading through the broken tooth to shorten the zipper.
Is it comfortable to hold and carry? In addition to handles, weekender bags should also be designed to hang from the shoulder or across the chest, so you can move quickly and comfortably across a sprawling airport terminal, and also sling it quickly over your shoulder for shorter distances, like running the bag out to your car or a taxi. Straps should not dig uncomfortably into the shoulders, nor should carrying the bag cause back pain (unless you plan to be carrying bricks or potatoes, in which I advise you to invest in some adjustable dumbbells in advance). It should not press uncomfortably into the back or hips, and you should be able to lift it into an airplane carry-on luggage compartment (or another tall shelf) without it flopping all over the place, which can happen with longer duffels with soft bottoms. 
Does it have good organizational features? Packing cubes are great, but ideally, a good weekender bag should make packing and organizing your stuff easy without them. "Nothing is superfluous" when it comes to pockets, says Lynch. Look for "places to put your phone and other things that you need right away on the outside of the bag. An inside pocket for either your laptop or other items and enough room to store your clothing and toiletries without fear of any spillage." Our favorite weekender bags have several clever, useful pockets for stashing shoes, a smartphone, a water bottle, dirty laundry, and so on. 
Does it have a good warranty, return policy, or repair policy? When you're spending $150-plus on a bag, it should last for years—and if it doesn't, the company that made it should do something about that. A high-quality bag should come with some kind of promise that if the bag craps out on you after six months of ownership, the company should step in and either replace or repair the bag.
How We Evaluated Weekender Bags
I carefully inspected each bag to ensure it had no manufacturing flaws or concerns, such as crooked stitches, sticky zippers, or flimsy hardware. Most importantly, I packed each bag with a long weekend's worth of stuff (check out my packing list below) and carried it fully packed around my large Brooklyn block to ensure comfort during slightly longer treks. I lifted each up onto a tall shelf to see if the bag keeps its shape—and thus is easier to heft into an airplane luggage compartment or a hotel closet shelf. I also had my husband, who's almost a foot taller than me, carry and wear each bag as well, in case the bag was more or less comfortable for a short person (me) than a tall one (him). And I measured each bag, to double-check that company measurements were accurate.
My packing list consisted of what I would typically take on a long weekend trip in the spring or summer. That means I packed a swimsuit, sunscreen, and sandals, but left behind the heavy wool sweaters and long underwear. Summer packing lists tend to be on the lighter side; if you're a big winter traveler, you might want to steer clear of some of the smaller bags on our list. 
Behold, my packing list:
1 pair of sandals • 4 pairs of socks • 5 pairs of underwear • 2 sets of pajamas • 2 pairs of shorts/leggings • 3 T-shirts • 1 swimsuit • 2 toiletry bags (one makeup, one skincare) • 1 light jacket • 1 pair of sunglasses • 1 water bottle • 1 book • a Kindle e-book reader (if I can fit it) • 1 passport
*All measurements are Consumer Reports' measurements, taken to check company claims.
This product evaluation is part of Consumer Reports' Outside the Labs reviews program, which is separate from our laboratory testing and ratings. Our Outside the Labs reviews are performed at home and in other native settings by individuals, including our journalists, with specialized subject matter experience or familiarity and are designed to offer another important perspective for consumers as they shop. While the products or services mentioned in this article might not currently be in CR's ratings, they could eventually be tested in our laboratories and rated according to an objective, scientific protocol.
Like all CR evaluations of products and services, our Outside the Labs reviews are independent and free from advertising. If you'd like to learn more about the criteria for our lab testing, please go to CR's Research & Testing page.
Consumer Reports is an independent, nonprofit organization that works side by side with consumers to create a fairer, safer, and healthier world. CR does not endorse products or services, and does not accept advertising. Copyright © 2022, Consumer Reports, Inc.