9 Best Gym Bags For Women – 2020
A good gym bag can help make a ton of difference to your gym experience. If you are a regular gym-goer, it is time to invest in a gym bag that is stylish and functional.
The right gym bag can elevate your fitness game to another level. But as you hit the gym on a regular basis, your gym bag sure can experience wear and tear. Hence, it is important you pick one that is sturdy yet comfortable and spacious to accommodate all your gear.
The best part is that you don't have to break the bank – there are tons of gym bags for every lifestyle, schedule, and taste. We have compiled a list of the best gym bags for women. Scroll through the list and choose one that's right for you.
9 Best Gym Bags For Women
1. Boost Sports Gym Bag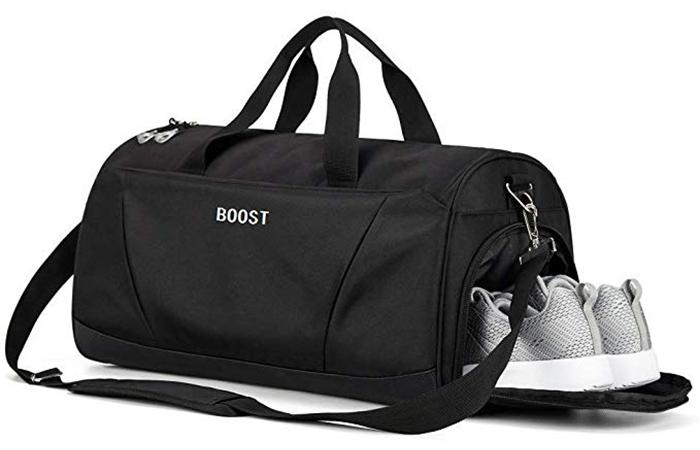 The Boost Sports Gym Bag has an ample number of pockets. The bag is made of durable material. Along with the main pocket for all your essentials, like water bottles and changing clothes, the bag also has an additional shoe compartment.
It also eliminates all the hassle of putting your sweaty, wet clothes somewhere because this gym bag comes with a specialized wet pouch. While the side pocket helps you keep your phone safe, there is another sliding pocket where you can store your additional items.
Pros
Waterproof
Ample pockets
Comes with shoe compartment
Wet pouch
Durable
Spacious
Cons
None
2. Vooray Iconic Duffel Bag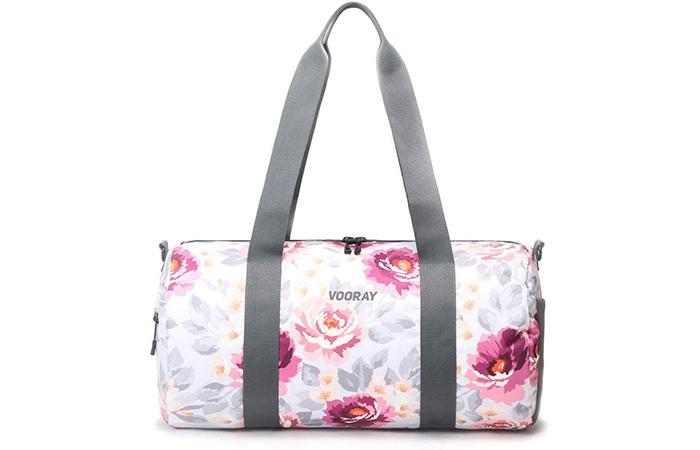 The Vooray Iconic Duffel Bag is built specially for the gym. This versatile gym bag features a padded nylon exterior that will protect your essentials from workout fatigue. It keeps you organized with its side exterior pocket meant for your gym accessories and a hidden pocket for your mobile phone.
This iconic gym bag has an elastic water bottle pocket to fit a bottle of any size. You can easily store your keys, wallet, and all other essentials. It is versatile and can also be used for sports and overnight travel trips. The bag also comes with a carrying capacity of 27.5 L and extra tall handles that are easy, comfortable, and adjustable.
Pros
Versatile
Easy to organize
Durable
Cons
3. Nike Women's Gym Club Bag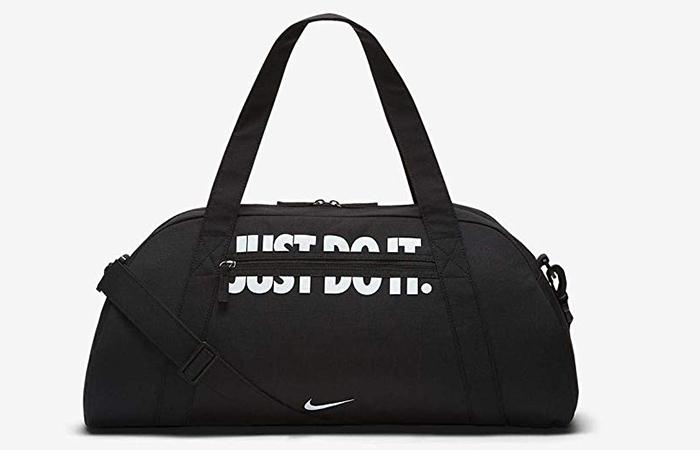 The Nike Women's Gym Club Bag gives you a bold look that makes heads turn. It is made from 100% polyester and has a polyester lining. With ample pockets and enhanced durability, there is no reason not to choose this. It comes in two bold colors to make you stand out from the crowd. Select this one and walk in style to the gym!
Pros
100% polyester
Durable
Ample space
Multiple pockets
Bold look
Cons
4. Under Armour Undeniable Duffel Bag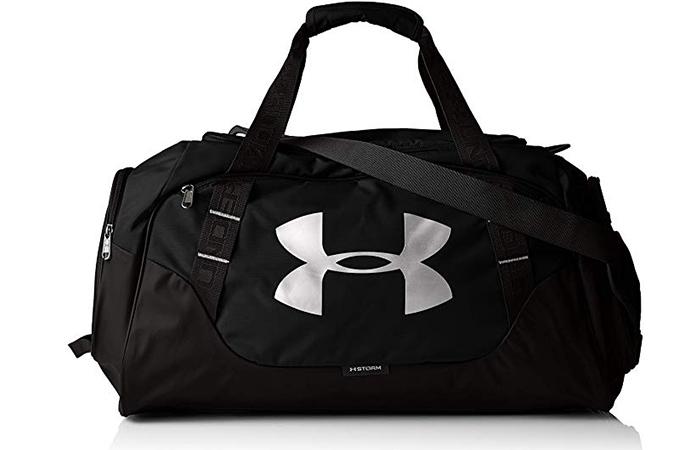 This Under Armour Undeniable Duffel Bag is a perfect choice for all athletes. The brand aims at making athletes more passionate. The technology used in this product makes it highly water-resistant.
This bag has a sturdy, abrasion-resistant bottom and side panels. It also contains a large pocket for laundry and shoes, one mesh pocket, and an extraordinarily sizeable zippered pocket that allows you to organize your stuff. The shoulder strap is adjustable and padded to provide comfort. The top handle is padded and comfortable to grab as well.
Pros
UA Storm Technology
Water-resistant
Large pockets
100% polyester
Cons
None
5. Adidas Unisex Diablo Small Duffel Bag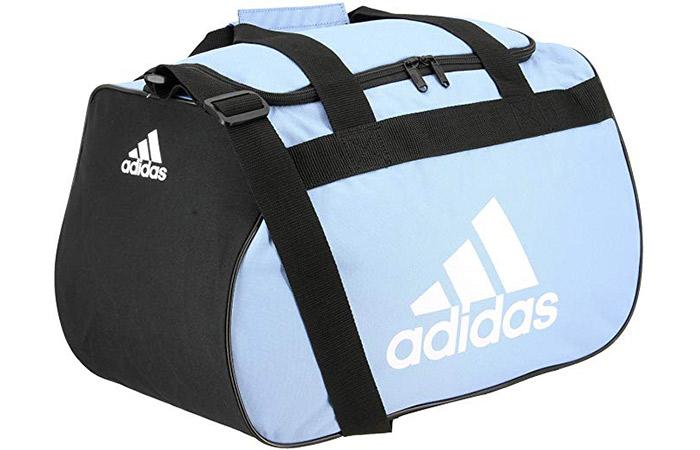 The Adidas Unisex Diablo Small Duffel Bag comes in a perfect size fitting all your needs. The full zippered compartment makes it easy for you to pack your essentials.
The adjustable shoulder strap provides absolute comfort to your shoulders, and you can wear it at any length you like. This bag features a logo screen print, has ample space, and is available in various colors.
Pros
Zippered compartment
Adjustable strap in varied colors
Comfortable
Cons
None
6. Kuston Sports Gym Bag
The Kuston Sports Gym Bag comes in various sizes to suit all your requirements. It also has a shoe compartment that is big enough to fit any kind of shoe. It has one big pocket for all your essentials.
Its waterproof zipper ensures you don't have to freak out with your wet clothes. The shoulder strap is detachable. Hence, the bag can also be used as a handbag. Its improved back pressure and comfort make this bag a perfect fit for your gym and travel trips.
Pros
Available in various sizes
Comes with shoe compartment
Has a wet pocket
Comfortable
Adjustable
Cons
None
7. Canway Sports Gym Bag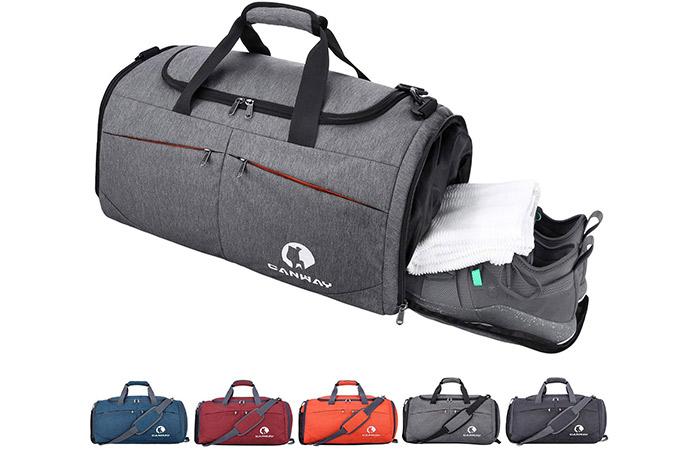 The Canway Sports Gym Bag has a 45 L capacity. It is extremely fashionable and spacious. The bag has one main pocket and eight separate pockets – one for your sneakers, three for your wet towels and clothes, a side mesh pocket for your water bottle, and, of course, your protein shaker. The inner pockets can hold your shampoo and facial cleansers.
The bag is made of 600D polyester fabric and is waterproof and tear-resistant. The padded, adjustable, and removable shoulder strap buckle is rounded with stitched grip handles, making them easy to carry. The bag has a built-in keyring, and the side hook on the bag allows you to hang it from a pole or hook on the wall. The bottom part of the bag is waterproof as it is made of resistant leather.
Pros
Spacious
Multi-pocket
Durable
Tear-resistant
Waterproof
Cons
None
8. WANDF Foldable Duffel Bag
The WANDF Foldable Duffel Bag has a large capacity that can not only be useful inside the gym but also outside it. It has several pockets that can help store your household items.
It has a spacious shoe compartment, and you can carry your favorite pair of shoes anywhere and everywhere you go, thus eliminating the need to carry an extra bag for your shoes. This bag comes in various sizes and has durable, sturdy straps, making it easy to carry around. The bag is also foldable.
Pros
Foldable
Spacious
Durable
Cons
None
9. Sportsnew Sports Gym Bag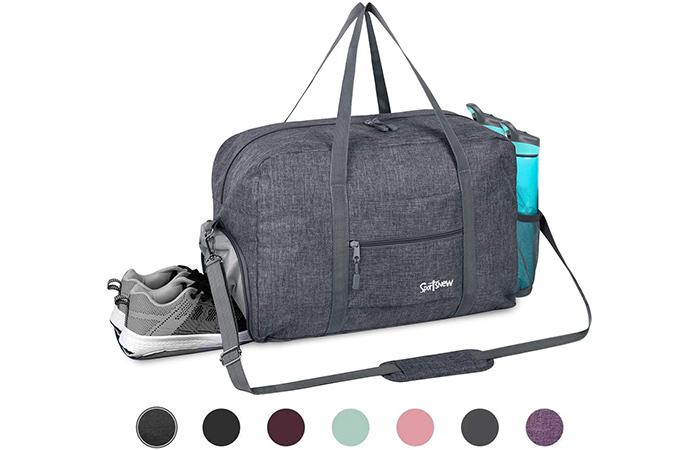 Sportsnew Sports Gym Bag has pockets for both wet and dry clothes. It also has different pockets for your shoes and water bottles. The bag is made of water-resistant material.
It has a padded shoulder strap that keeps your shoulders from aching. The heavy-duty zippers and the solid clasps and fixtures of the bag add to its durability.
Pros
Separate pocket for wet clothes
Shoe compartment
Water-resistant
Padded shoulder strap
Heavy-duty zippers
Cons
None
These bags can make your workout time more fun. Pick the one you like and get ready to flaunt it. A new gym bag will ensure that you enjoy the process of packing up and leaving for the gym and feel on top of your fitness game.
The post 9 Best Gym Bags For Women – 2020 appeared first on STYLECRAZE.