50 DIY Christmas Crafts for Kids: Holiday Decor You Can Make As a Family
Christmas is coming! Kids are getting excited for Santa Claus, eating candy canes, decorating the house with colorful lights, and playing in the snow. There are a lot of tasks that need to be done during this festive time of year. Maybe you have to plan a holiday party for your co-workers or host a Christmas dinner at home.
However, kids shouldn't feel left out when it comes to Christmas crafts. Besides keeping them busy, crafting is also an excellent opportunity to teach them about making various objects.
Christmas crafts for kids should not only involve paper cuts out or sticking foam pieces on construction paper. You should find creative materials from around the house to make simple crafts without exerting too much effort and money from your purse. Besides, some Christmas craft ideas use recycled materials as their base, so you don't have to worry about leaving a trail of garbage behind.
Best Christmas Crafts for Kids to Try in 2021
If you don't have enough time on your hands to research the Internet for the best Christmas crafts for kids, we're here to help. We put together a list of the crafting ideas we like the most for the young ones, so be sure to explore everything and choose your favorites!
1. Polymer Clay Snowman Ornaments – Christmas Crafts for Kids 
Snowmen are some of the cutest characters to present at Christmas. And children will surely love making a snowman-themed gift for this holiday season. It's an excellent idea when it comes to Christmas crafts for kids.
To make your own polymer clay snowman ornaments, you will need white and black polymer clay, tweezers, and gold leaf paint. It's also a good idea to have acrylic paint in light blue, orange, red, brown, and yellow.
Before finishing the list of materials, add the following: an oven tray lined with aluminum foil, parchment paper or wax paper for printing templates, pencils, pens, markers or crayons for drawing templates, rubber stamps (if you're using them), scissors, and wire wool.
Start by rolling out the white clay into thin plaques about 0.5 cm thick. Use your template to cut out four ear molds, a nose, and a mouth. Also, cut out small pieces of clay to form the eyes and buttons of the snowman.
Next, press on your rubber stamps so that they leave lovely prints on the clay piece. Fill in the details by drawing or tracing as indicated in your template. Then, transfer them to an oven tray lined with aluminum foil and bake at 150 degrees Celsius for 30 minutes until both sides become firm and dry.
Once baked, paint these parts with gold leaf paint and let it dry completely before applying another coat over it. Paint over all other parts and let them dry before painting on top of them again two more times for added depth. Once done, glue wire wool on the back and hang up your ornaments.
Kids love making gifts out of clay since it's easy to manipulate, so get them started on this DIY project today! It's a friendly activity for both big and small kids to do together. Plus, the little ones can learn how to share their toys with their siblings.
For more inspiration, feel free to explore this fantastic tutorial we found on Rhythms of Play!
2. Felt Holy Pins – Easy Christmas Crafts for Kids 
With just a few colorful felt squares and pins, your kids can create their own holy pins to wear during the Christmas season. The craft's simplicity makes it an easy Christmas crafting idea for kids since all you need are a few supplies to keep toddlers and preschoolers occupied for hours on end.
When it comes to materials, make sure you have red, white, green, and yellow felt squares in different sizes, pins with big heads, floss or yarn of the same colors as the felt pieces, scissors, and glue or a stapler.
Start by cutting out twelve small red circles from the red felt piece. Then cut four larger shapes from both green and white felt. Cut six lines on each of these shapes to create the holy sign. Next, cut twelve squares from the yellow felt and round all corners except for one side.
You can now arrange the four larger pieces in an open square with two green pieces at each corner and a smaller red piece in between them since this is where your button will go.
Overlap the smaller red piece over the other three to hold them together. Then take a white part and place it right next to the base to ensure no space is left. Then add a green or yellow square by its side while placing it only halfway through the yellow base. Staple or glue the square's corner to secure it in place. Repeat this until you fill the whole square with these pieces.
You can help your children make their holy pins by cutting small shapes they might want on their buttons, like stars or Christmas trees. You can also let them choose which colors they prefer for each part of the pin. Once you're ready, attach a hook on the back, and you're all set!
This fun Christmas craft for kids is perfect for doing at home or school during the holidays since it's simple enough for toddlers but engaging enough for older children. The festive button designs also make great gifts for friends and family.
If you prefer a simpler version to make felt holy pins, check out this straightforward tutorial we found on Wild Olive!
3. Recycled Votives – Christmas Craft Ideas for Kids 
If you're researching Christmas crafts for kids, try this recycled votive craft idea and turn empty plastic bottles into festive jars for your home. They work perfectly as Christmas centerpieces and will surely add some cheer to your table.
At the same time, the votives make it smell nice, thanks to fresh flowers and scented candles you can store inside them.
Using votives with large openings at the top makes it easier for kids to get their hands in there without having to worry about breaking anything. However, if you're using smaller ones like baby food jars, you might want to add details such as metallic collars or handles on the bottle's opening so that nothing gets broken while decorating them.
When it comes to materials, you will need Mod Podge and a small sponge brush to spread it on the bottle. You can also use metallic pens or markers to add details to the plastic votive jar.
As for the floral wire, make sure you have enough of it if your little ones plan on creating lots of beautiful things inside their containers since each flower needs some wire wrapped around its stem. Fresh flowers should work, too.
To start this fun Christmas craft idea, choose which color you want your votive to be. Take your metallic pen or marker and draw colorful stripes on the bottle.
Then, apply a thin layer of Mod Podge over the entire surface, ensuring that it goes into all the lines you drew. Try to spread it fast and avoid bubbles from forming in the glue.
When your jar is completely dry, you can add some more details if you want, using metallic markers or pens. For instance, draw little stars on top of each stripe's end or try adding snowflakes for a wintery decoration.
You can also use metallic collars around the neck of the vase and glue ribbons at the opening so that they stick out a bit. Then tape a small piece of coil wire under them to make them stand up straight like stems.
To give your jar its finishing touch, choose a fresh flower and cut its stem at a diagonal angle. Then, use a piece of floral wire to tie the stem to the coil pieces so that it stays in place without moving.
The votive is now ready to display small toys or figurines inside the jar! For more inspiration, take a look at this fabulous guide we discovered on Handmade Charlotte!
4. Marshmallow Garland – DIY Christmas Crafts for Kids 
When it comes to quick and easy DIY Christmas crafts for kids, making a marshmallow garland is a fun activity since it doesn't involve too many things, and the materials are reasonably affordable.
All you need are marshmallows and essential sewing thread. The idea is to thread the marshmallows together to form long strings that you can hang on the window. Make sure to tie knots at the ends so that the fluffy treats don't fall off. For best results, it's best to take the marshmallows out of their bags and let them breathe for a day or two.
Once the garland is ready, all you need to do is tie it on your doorknob or anywhere in your entrance, and voila – you've transformed your home into a magical winter wonderland! If you'd rather hang it from the ceiling, simply use a yarn needle and a piece of string to make it adjustable.
The best part about this do-it-yourself craft project is that you can adapt it to suit any holiday or occasion. Get creative with colors by using pink, red, and white for Valentine's Day, fun patterns and shapes for a birthday garland, and colorful candy canes and ornaments for Christmas.
It's time to bring some festive cheer to your home and spread the holiday spirit by starting a fun craft project with the kids!
For more inspiration, check out Betty Crocker's article!
5. Reindeer Clay Pot Ornaments – Christmas Ornament Crafts for Kids 
Christmas is a time for giving and receiving gifts, so why not start making presents for the family right now? This simple reindeer clay pot ornament is easy enough to carry out by young kids curious about arts and crafts.
To make this Christmas ornament craft for kids, you need the following materials: small terracotta flower pots, acrylic paint, googly eyes, gold spray paint, and ribbon or yarn to tie the ornament around your neck.
If you have terracotta pots left from other projects, simply clean them up before painting them in festive colors. If you don't have any lying around at home, there are plenty of cheap options online!
After choosing a color for each pot (red might be perfect for Christmas), paint the surface evenly using a simple brush. Let it dry before painting on another layer to ensure that the color is nice and bright.
The reindeers' fur can be made by simply cutting pieces of yarn or ribbon, curling them with scissors, and gluing them onto the pot. A green stripe is an excellent choice for making their noses!
To finish off your cute holiday craft project, attach googly eyes to each pot, draw on some whiskers with acrylic paint, and tie a piece of string around the neck for hanging purposes.
For more information about this adorable winter decoration idea, visit Darcy and Brian's website!
6. Clay Pot Tree – Christmas Arts and Crafts for Kids 
Terracotta pots are not just for flowers anymore! They can also be turned into beautiful decorations that you can carry around the house or give as Christmas gifts.
This simple activity is perfect for kids who love arts and crafts on Christmas since it involves painting on materials that are safe to touch. If you're thinking about taking up a new hobby with your child this Christmas season, consider turning clay pot trees into one of your new favorite activities!
For this project, you need mini terracotta pots, green acrylic paint, brushes, ribbons or yarn for decoration purposes, and gemstones. Begin by painting three mini terracotta pots that will go on top of each other. To make them look like a Christmas tree, ensure that the three pots have slightly different sizes: more prominent on the bottom and smaller on the top.
After letting the pots dry, put them on top of each other to form a tree. If you don't plan on hanging them somewhere, you don't have to glue them together. Otherwise, get your trusty hot glue gun ready and wait for a few minutes until the glue dries off.
Next, you can decorate your tiny Christmas tree with garlands made from yarn or ribbons and ornaments made from gemstones. If you wish to stick to a classical color scheme that perfectly embodies the Christmas spirit, stick to red and white.
When it comes to the tree topper, you can place a mini star ornament with the help of a pipe cleaner. We think this is a beautiful project that works particularly well when crafting several Christmas trees this way.
Learn the complete steps in this intuitive tutorial we discovered on The Best Ideas for Kids!
7. Popsicle Stick Ornaments – Christmas Crafts
Children love creating things with popsicle sticks because they're quick and easy to use! So you can turn these materials into a pretty craft for Christmas, such as popsicle stick tree ornaments.
You need popsicle sticks, acrylic paint in bright colors of your choice, a glue gun, and googly eyes to get started. First, cut the round end from the popsicle stick using a knife or another cutting tool.
Next, use a hot glue gun to make two small circles on top of each other over the flat end of the stick. After waiting a few minutes until it dries off completely, you can add more glue around it and then attach googly eyes.
These simple popsicle craft ideas let children explore their creativity without requiring any special skills. However, you can still be genuinely unique and personalize your Christmas ornament by painting some designs on it with acrylic paint before adding the eyes.
In this case, we recommend simple shapes such as circles or rectangles, as well as polka dots if you're looking for a cuter design. In addition to being a wonderful craft idea that anyone can do at home, this project is also a fantastic way to encourage kids' creativity as they try coming up with different designs every year!
For more information about this fun activity, check out Crafts Meet Kids!
8. Popsicle Stick Sparkly Snowflakes – Christmas Crafts for Toddlers 
This project is the perfect way to make magical snowflakes for Christmas! You can also use it as a Christmas crafting activity for toddlers because it requires only three materials: popsicle sticks, sanding sugar, and glue.
For this craft idea, you need sanding sugar that comes in different colors. Try to avoid white ones if you want more vivid hues. It's also a good idea to have a hot glue gun.
Start by turning four popsicle sticks in the shape of a star with your hot glue gun. After waiting several minutes for the glue to dry off completely, sprinkle sanding sugar on top of the popsicles sticks until they're entirely covered.
To give them a sparkling effect from different angles, we suggest spraying some light mist over them. To make sure they look like actual snowflakes, you can add some white paint along the edges with a brush.
This simple craft idea is perfect for winter because it makes kids feel like they're playing in fresh snow!
For an alternative way to make sparkly snowflakes out of popsicle sticks, check out this fabulous tutorial created by Toddler Approved! It involves sequins, buttons, glitter, and jewels.
9. Paper Plate Reindeers – Preschool Christmas Crafts 
If you're looking for easy Christmas crafts for preschoolers, this is the perfect project to try since it requires only three materials: paper plates, googly eyes, and construction paper.
You can turn these supplies into unique Christmas reindeers with some simple cutting and gluing. Start by cutting both ends of a paper plate at an angle to make it appear like the head of a reindeer.
Then cut two circles about 2-3 inches in diameter, which you will later use for the reindeer's nose. Finally, cut two smaller circles from dark brown construction paper that act as pegs for attaching the googly eyeballs.
As soon as your little crafters finish making their cute mini reindeer, you can get decorating! For this, you need to paste the reindeer's nose on top of its head and then add a black triangle for his tail.
In addition to being an easy Christmas craft idea that toddlers can do with your help, this fun activity also helps develop their fine motor skills as they attach googly eyes and construct paper pegs.
For an alternative route to make paper plate reindeer, take a look at Simple Everyday Mom's article!
10. Paper Lights Garland – DIY Christmas Crafts 
A garland made from paper lights is the ideal DIY Christmas crafting activity for both young children and adults who are looking for an easy and entertaining way to pass the time while waiting for Santa.
You can make a paper lights garland out of various materials, but we recommend using construction paper since it's relatively cheap and comes in different colors. Plus, you can use any other type of sturdy paper with equally vibrant hues.
To start this crafting activity, glue all pieces together to form a chain that looks like a garland and then create an ornament out of folded tissue or craft foam sheets.
Attach the ornament to the end of your chain with glue and string it on a piece of twine! This way, you get a cute DIY craft decoration that also doubles as a photo holder, allowing everyone to celebrate this Christmas season with joyful memories!
We also recommend checking out this stunning tutorial we discovered on Stubbornly Crafty!
11. Santa Claus Origami – Easy Christmas Crafts 
If you're researching easy Christmas crafts that kids can make at home, this Santa Claus origami is an excellent option. What's more, it's a great choice if you want to get crafty with your little ones while teaching them about the origins of Christmas traditions.
This interesting origami tutorial calls for only three materials: rectangular strips of paper (origami paper works best) with red and white sides, glue, tiny styrofoam balls, a cutter, and pencils or markers.
The folding technique is the most crucial part of the entire craft. However, it's elementary and a great way to get your kids into Origami. Just follow the instructions shown in the video guide to create a small Santa Claus in just a matter of seconds.
After making Santa out of paper, take the cutter and make a small hole at one end of a styrofoam ball. This will create a crease that will be used to put on Santa's hat. Then all you have to do is draw the eyes and nose with pencils or markers. It's best to keep the eyes black and make the nose pink. And that's it!
For adorable results, we suggest creating several Santas this way!
12. Cardboard Fireplace – Christmas Paper Crafts 
One of the easiest Christmas paper crafts for toddlers and preschoolers to make is a cardboard fireplace. This creative activity results in a lovely Christmas decoration piece that's also fun to decorate with different stickers.
In addition, this idea might just be one of the best ways you can teach your children how to recycle! All you have to do is cut out two rectangular pieces from a corrugated cardboard sheet and then glue them together. Make sure you do it so that only the front side has flaps while the other remains flat: this will ease the process when decorating.
After assembling your masterpiece, let your kids go crazy with gluing small triangle-shaped felt or colored paper triangles for added flair and dimension. They can also draw some Christmas trees, people, and other festive elements on the backside to make it look like a winter wonderland.
For a more complex version of this crafting activity, check out this tutorial we found on Goods Home Design!
13. Snowflakes – Popsicle Stick Christmas Crafts
Snowflakes are easy Christmas crafts for kids to make, and these popsicle stick snowflakes will stand out! It's a cheap and rewarding craft activity that's great for toddlers and preschoolers.
All you have to do is paint the ends of different colored popsicle sticks with acrylic paints. Afterward, you should let them dry before accenting each one with dots made from glittery glue.
Finally, you must attach the painted ends together by applying hot glue (adult supervision required!) on both sides of an undecorated popsicle stick. Keep doing this until your masterpiece is finished!
You can now hang your popsicle stick snowflakes from the ceiling as a Christmas decoration piece. Or you can use it as an ornament that you can give to friends or family members as a gift.
For more inspiration, check out this awesome tutorial we found on Sugarbee Crafts!
14. 3D Pasta Trees – Christmas Crafts for Kids
Making 3D pasta trees is another way to go when it comes to easy Christmas crafts for kids. It's a lovely activity to do with toddlers and preschoolers this holiday season since it results in three-dimensional trees that are sure to make them feel jolly!
All you have to do is cut out different types of pasta noodles (spaghetti, macaroni, etc.) into even triangles. Don't forget to paint them first! Once they're dry, use glue, paper balls (cotton balls work best), and star-shaped wooden beads as ornaments. You can also decorate your 3D pasta trees with glittery paint.
What's great about these Christmas crafts for kids is that they don't require any specific ornament hanging techniques. Just attach the items by sticking them in the middle of each triangle, and there you go!
For more inspiration, feel free to explore the intuitive instructions provided by Crafty Morning!
15. Fabric Tree Ornaments – Easy Christmas Crafts for Kids 
A creative way to decorate your Christmas tree is by making fabric ornaments that look like smaller trees. Luckily, this activity is also one of the easiest Christmas crafts for kids since it can be done with simple yet colorful material: scrap fabrics!
Only two steps are necessary to make a single ornament: cut any shape you want from a sheet of fabric and then glue its ends together so that it doesn't unravel.
You can now hang them on the Christmas tree and put different colors and patterns together to form a lovely display. For more flair, add hanging loops made from mini ribbons at the very top of each one.
Read the tutorial we found on Fireflies and Mudpies to find out more about making these simple and elegant ornaments!
16. Pinecone and Wine Cork Trees – Christmas Craft Ideas for Kids 
These pinecone and wine corks trees are a festive take on an old classic. It's one of the simplest Christmas crafting ideas for kids because it only requires a little bit of patience and creativity!
All you have to do is drill two holes into a wine cork, big enough so that the tips of pinecones can fit inside them. Once they're dry, paint each tree with your favorite color or pattern. You can even combine different colors together to form a gradient effect!
You should then insert a wire into each drilled hole (adult supervision required!) before inserting it into the end part of the pinecone. Make sure that the wire ends are at least 1 centimeter deep to secure your decoration pieces in place. Afterward, allow your kids to hang up the finished trees so that you can admire their handiwork!
For more inspiration, visit Good Sgn!
17. Candy Cane Wreath – DIY Christmas Crafts for Kids 
If you're looking for a DIY Christmas crafting idea for kids that involves making a wreath to hang on their bedroom door, consider making a candy cane wreath since it's editable! It's one of the easiest homemade Christmas crafts for kids that you can do at home without exerting too much effort or spending too much money!
All you need are several candy cane sticks and a wire hanger. Carefully unwrap each stick until they're completely separated from each other, and be careful not to break the candy coating! Next, wire three canes together into an open circular shape by wrapping the wire ends around their bars. Apply hot glue to make sure the stick parts don't fall apart and leave it to dry overnight!
The next day, use either your fingers or pliers to twist the candy canes into a wreath shape. Be sure to do this gently so that you don't break them! You can then decorate your homemade Christmas craft by tying red and white ribbons around it and hanging up some small silver bells.
For an alternate solution to make a candy cane wreath, check out this fabulous tutorial we found on Crafty Morning!
18. Gnome Ornaments – Christmas Ornament Crafts for Kids 
Christmas is all about decorating your home with festive ornaments, so why not try this gnome ornament craft that you can easily do at home with the help of your kids?
All you need are brown paper bags, white fabric paint, googly eyes, and twine. First, make a hat by folding the bottom half upwards towards the top. Secure it in place by drawing stitches along its brim using white fabric paint! You can then make his beard using ripped pieces of the same color.
For eyes, use two black buttons for each gnome to give them some character. Draw their mouths by making V symbols before adding lashes on each eye! To seal off each one head, cut around their heads before cutting off their hat brims. Finally, tie a small piece of twine around each gnome to make them look like they're wearing hats!
For more inspiration about this Christmas ornament crafting idea for kids, check out this awesome tutorial we found on Ruffles and Rain Boots!
19. Tea-Light Snowman Ornaments – Christmas Arts and Crafts for Kids 
If you're planning on decorating your Christmas tree with some homemade ornaments, consider making this adorable snowman craft using battery-operated tea lights! It's a beautiful project when it comes to Christmas arts and crafts for kids. Plus, it's inexpensive and incredibly cute when finished!
To make these ornaments, you need regular tea lights, paint pens (in various colors), and colored tissue paper. First, color each light with a different design before drawing on facial features with the paint pens! Once you're done, carefully tear off some pieces of colored tissue paper and stick them onto their heads to create pom-poms!
Finally, tie a piece of string around each snowman ornament and hang it up on your Christmas tree so that you can admire your handiwork from afar!
Visit One Little Project if you're interested in a more elaborate project about making tea-light snowman ornaments! It involves ribbons, pipe cleaners, pom-poms, felt, and a glue gun.
20. Evergreen Stars – Christmas Crafts 
Another simple project you can try during the holiday season is this DIY Christmas craft involving evergreen stars. Made from basswood strips, these are perfect for hanging up on your walls or even your Christmas tree!
For this project, you must use a ruler and pencil to draw three even lines on basswood strips. Then, cut the lines evenly with a craft knife or a mini saw! Next, stack two of your strips before gluing them together with wood glue. Press firmly for five minutes before letting the star dry overnight.
You can also decorate the strips with greenery, such as rosemary, cedar, juniper, and boxwood by gluing them. If you want to make several pieces of these homemade ornaments, be sure to nip off any excess thread that's sticking out of the top-end part! This will help the stars stay intact whenever you try hanging up your Christmas crafts on your walls or tree.
For more inspiration, check out this article we discovered on Martha Stewart's website!
21. Felt Bulb Garland – Christmas Crafts for Toddlers 
If you're looking for Christmas tree ornaments, consider making this felt bulb garland! Made from different color circles of felt, it's the perfect DIY Christmas craft idea for toddlers and younger kids.
To make this garland, use a wooden dowel as your base and cut strips of various colors of felt. Cut one end into a point before sewing them together using a needle and thread! You can then tie the other end into a knot to complete your handmade piece! Be sure to press down on the stitches so that they stay in place throughout the season.
To find out more about this fabulous project, visit Oh Yay Studio!
22. Paper Cup Trees – Preschool Christmas Crafts 
Another great Christmas tree decoration you can make with your preschooler is this fantastic craft using paper cups! All you need to begin with are the following materials: paper cups in various colors, green felt strips, string or twine, and a glue gun with plenty of glue sticks.
First, cut two green felt strips and glue them to the bottom of a paper cup to help secure it in place. Then, stick several pieces of string on the inside base of each cup before hot gluing its tops together.
You can then thread small red pom-poms on top for an even more magical look! Last but not least, hang them up on your Christmas tree to see if Santa Claus notices them!
Check out this amazing article we found on Fireflies and Mudpies for more inspiration about making this preschool Christmas crafting idea!
23. Christmas Crafts for Kids – Melted Crayon Ornaments
Meet the Dubiens teaches us how to make these gorgeous melted crayon ornaments with the kids. Just think of the fun they'll have picking out and mixing their colors.
24. Christmas Craft Ideas for Kids – Snowman Mason Jar
Check out this adorable snowman luminary from Chica Circle. The kids will love creating their own character that can then be shown off around the house!
25. Peppermint Ornaments – Easy Christmas Crafts
The kids will love learning how to make these peppermint ornaments from Hello Homebody. And they'll love watching the peppermints melt in the oven!
26. Reindeer Thumbprint Ornaments – DIY Christmas Crafts for Kids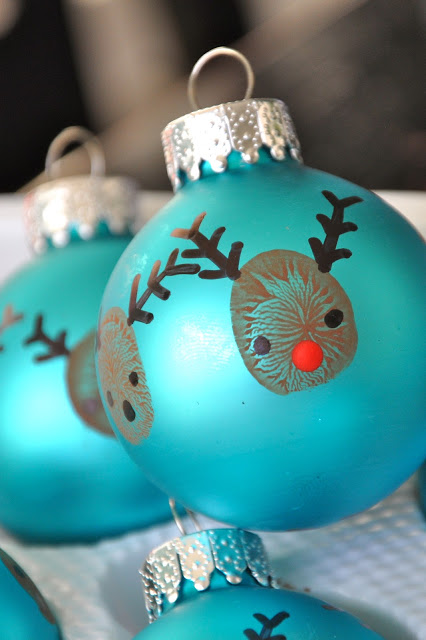 Have the kids get messy with some paint! Use their little fingers to create reindeer faces and have it as a memory for years to come. Check out the details at Little Bit Funky.
27. Christmas Crafts for Toddlers – Cupcake Liner Garland
One Perfect Day shows us how to put some of those cute Christmastime cupcake liners to use – for more than just baking. This kid-friendly project not only gets the kids using their hands but also makes a charming mantle decoration too.
28. Preschool Christmas Crafts – Fingerprint Elves
These craft is super easy, super inexpensive and super fun for the kids to make! Grab those little fingers and start creating some elves like these cuties from Crafty Morning.
29. DIY Christmas Crafts – Bow Tie Wreaths
Perfect to use as a greeting card or just as a fun decorating made by the ones you love dearly. Grab some bow tie noodles and get to work with this crafty idea from Crafty Morning.
30. Christmas Ornament Crafts for Kids – Ninja Turtle Ornaments
What kid doesn't love the Ninja Turtles? Bring them into the holiday season with this easy idea from Crafting Chicks and have your son or daughter create them with you.
31. Mini Mittens Garland – Easy Christmas Crafts
These tiny little mittens can be made by tiny little hands. And Etsy has all the details on how to create this garland for your mantle or banisters.
32. DIY Christmas Crafts for Kids – Santa Beards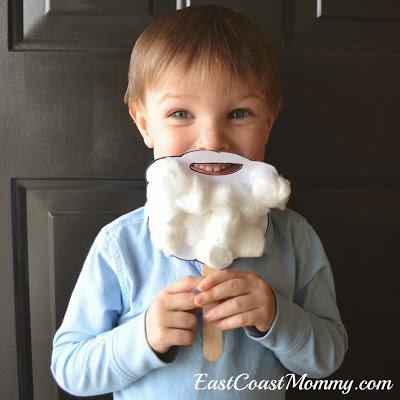 Every little guy and gal too will love flaunting off their beard once they've completed them! Add some glitter, make them extra fluffy and learn how at East Coast Mommy.
33. Santa Slime – Easy Christmas Crafts for Kids
Not only is this project fun to create but it'll be fun to play with long after the making is over. Hop on over to Growing A Jeweled Rose and check out the tutorial.
34. Memory Chain – Christmas Ornament Crafts for Kids
The Pink Samurai gives us a new spin on the classic, Christmas paper chain link. Use as garland or count down the days until Santa comes by reading off a family memory at the same time.
35. Colored Candles – Christmas Arts and Crafts for Kids
All you need to keep the kids busy with this idea is grab some plain candles and markers! Check out the essentials at Red Ted Art. These would be great as grandparent gifts!
36. Pom-Pom Painted Trees – Easy Christmas Crafts
Make the kids their very own paintbrushes with some clothespins and pom-poms. Then grab some paint and have them "decorate" their tree – details at Fantastic Fun and Learning.
37. Popsicle Stick Christmas Crafts – Santa 
Craftionary made these adorable Santa faces out of Popsicles, a perfect craft for little ones to get creative with and design their own St. Nick!
38. Snowman Garland – Christmas Crafts for Toddlers
Pure Heart gives us a super simple and inexpensive idea but one that your kids will love to dive right into. Especially because they'll be able to make a favorite of different snowman faces.
39. Painted Candy Canes – Christmas Craft Ideas for Kids
Rust & Sunshine gives everyone a craft that not only gets your child's wheels turning but teaches them great motor skills too. Use the plastic balls as "paintbrushes" and have them go at it!
40. Paper Plate Christmas Tree – Christmas Crafts for Kids
Your little ones will have so much fun making these Christmas trees out of paper plates and pom-poms. They get to be creative and learn some new skills. Thanks for the idea Creative Family Fun!
41. Fingerprint Reindeer & Santa Christmas Crafts for Kids
Crafty Morning gives us another great DIY to complete with the little ones of the house. They can make entire Christmas scene with those tiny fingers!
42. Paper Cup Angel Luminaries – Christmas Paper Crafts
Molly Moo gives us another great project for the holiday season. These luminaries will help bring a bout of warm coziness to the home but also get your little ones imagining and creating too!
43. Gold Clay Star Ornaments – Christmas Crafts for Toddlers
Get dirty with some glitter – or gold leafing! Gathering Beauty made these pretty gold clay stars and we thought they'd work for a great family craft around the holidays.
44. Felt Tree Ornament – Christmas Craft for Kids
Are these felt Christmas trees not the cutest? Create them from scratch with easy materials and directions from Buddly Crafts.
45. Toilet Paper Roll Santas – Christmas Crafts for Toddlers
CBC Parents shows us how to create these adorable Santas with materials you already have around the house! Toilet paper rolls, red cups and cotton lay the foundation!
46. Pom Pom Ornament – DIY Christmas Crafts for Kids
Personally, I'm in love with this fun and festive DIY ornament. And it's so easy for the kids to get involved with! Visit NorthStory for the tutorial.
47. Popsicle Stick Christmas Crafts – Christmas Soldiers
Are these Popsicle Christmas soldiers not adorable? Hop on over to Remodelando la Casa to get the details and then allow the kiddos to dive it and design their own.
48. Reindeer Clothespins Christmas Craft
Scissors and Spoons made these adorable reindeer clothespins and we think they'd be the perfect afternoon project to get your children inspired and ready for Christmastime!
49. Chalkboard Ornament DIY Christmas Craft
Chalkboard projects are always so versatile, especially when kids are involved. Visit A Night Owl to learn how to make these cuties and allow the little ones to design them to their liking.
50. Christmas Ornament Crafts for Kids – Fill With Sprinkles
We fell instantly in love with these sprinkled ornaments from Little Gray Fox. And we're fairly certain that your little ones are gonna love creating these with you.
Final Thoughts on Christmas Crafts for Kids
Christmas is a special time of year when you can enjoy spending quality time with your family and friends during the holiday season!
Not only do Christmas crafts make great presents for loved ones, but they also ensure that celebrations are both memorable and joyful. We hope that you enjoyed our list of DIY ideas to help your kids get started on their next craft project this festive season! 
Which Christmas crafting idea for kids do you like best? Feel free to share your thoughts with us in the comment section below!
The post 50 DIY Christmas Crafts for Kids: Holiday Decor You Can Make As a Family appeared first on DIYs.com.