11 Easy Ways to Hide Ugly Cords and Wires Around Your Home
Ever wondered how to hide ugly cords in your home? Now you can easily turn any messy cord situation into a clean and clutter-free space with one of these  eleven solutions.
I was over the moon when I finished decluttering and staging my entryway, but there was one eyesore that was really bugging me… seeing the lamp cord under the table. Not pretty.
This post contains affiliate links. For more info, please see my disclosures page.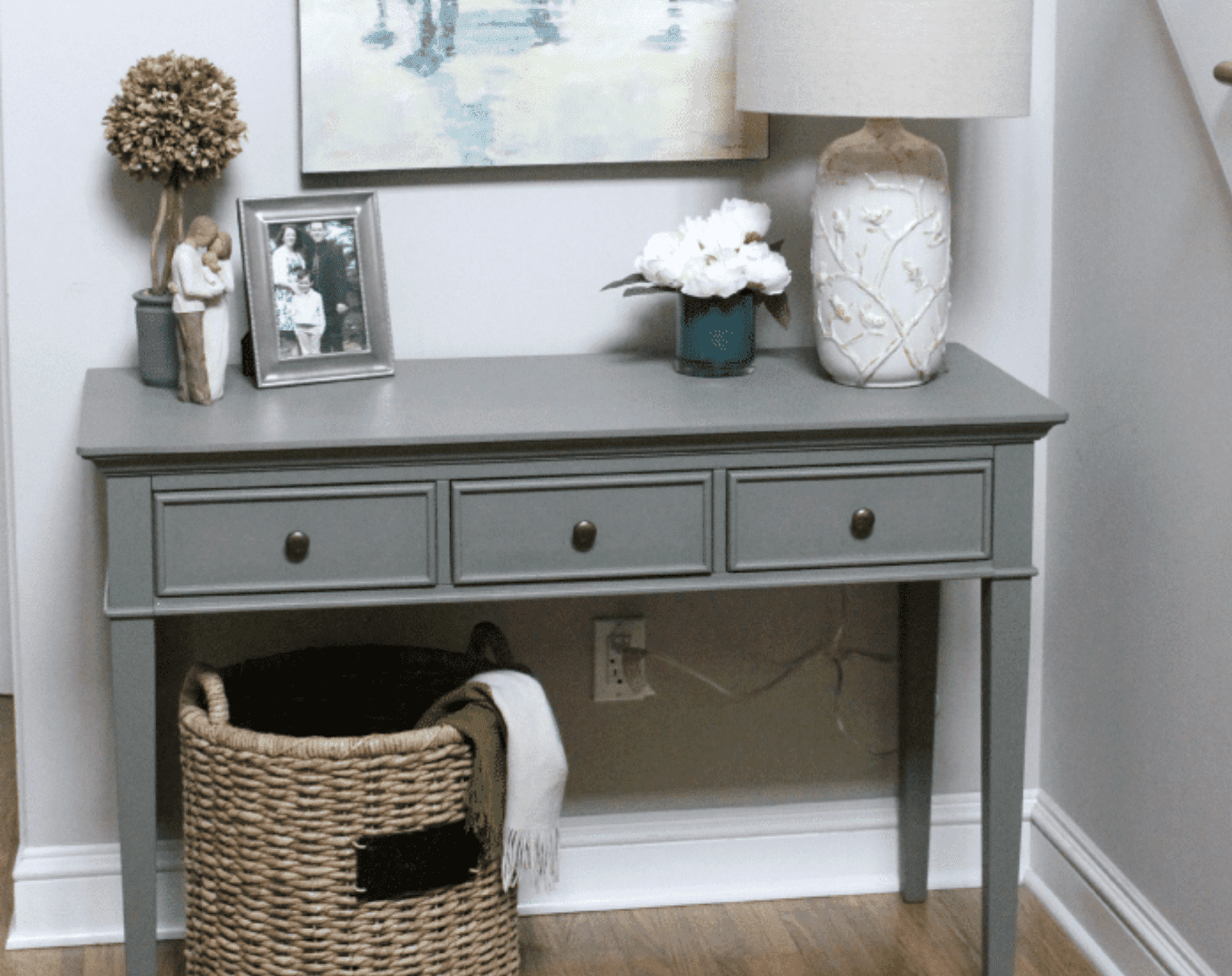 You may be thinking, "Just use the basket to hide the cables!"
I considered it, but we want to have the lamp of the right side of the table because it's by the wall and less likely to be knocked off by someone who's walking by.
If I moved the basket to the right side too the balance of the space would be completely thrown off because we'd have to large and visually heavy things on the right side and smaller decor on the left. Since I didn't want the room to feel lopsided, I had to come up with a new solution.
Not only is a droopy electronics cord not cute, and it's also a possibly safety hazard.
We have seven kids, including a crawling baby, and I know this would be too tempting for our youngest to resist. It wouldn't take much at all for the lamp to come falling down so it was time to hide the unsightly cord chaos with a simple trick… adhesive hooks!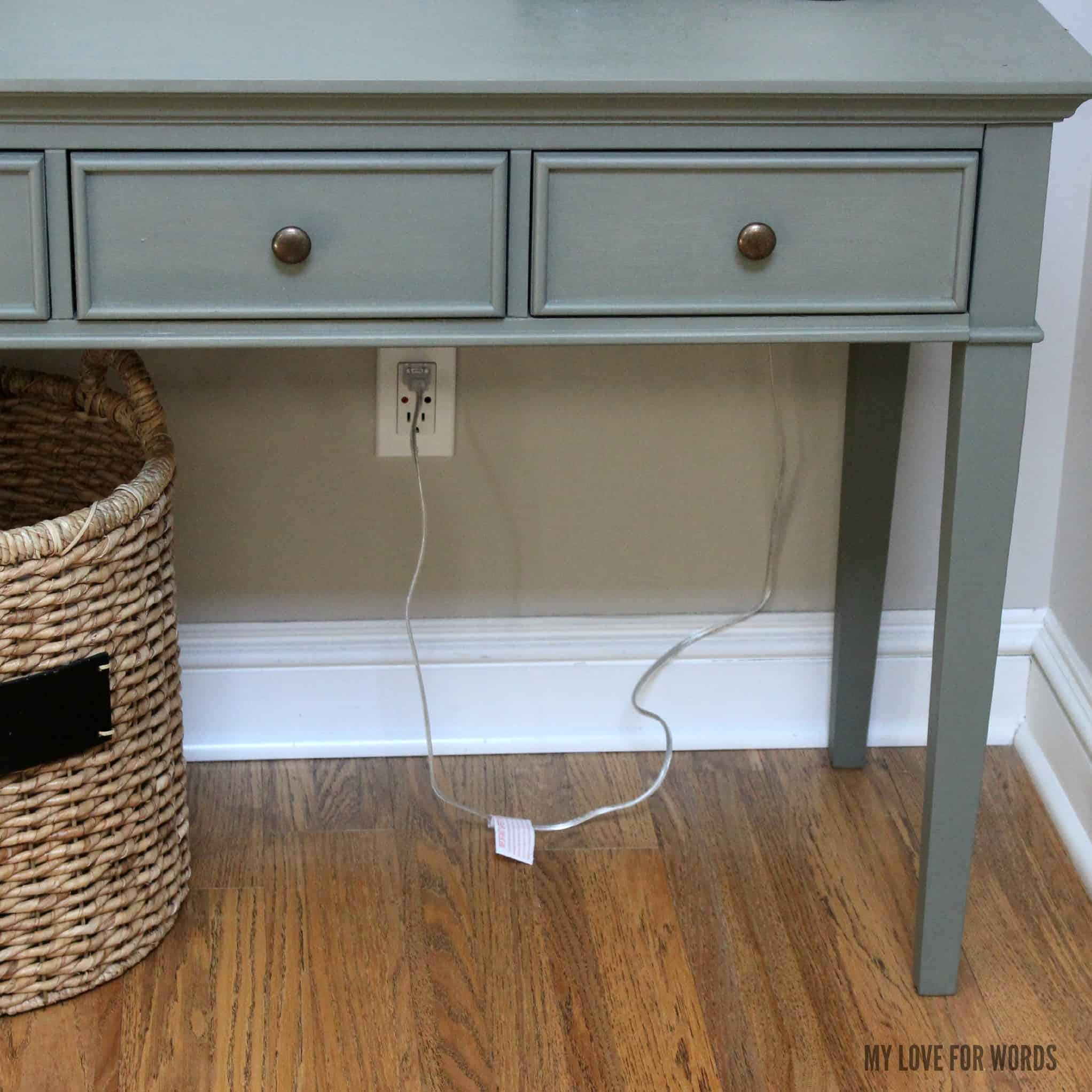 Thankfully, I had these little guys hanging out in my kitchen junk drawer.
1. Adhesive Hooks
We use command hooks on a pretty regular basis around our home.
I'm married to an engineer, which means I've never been able to have him hang something around our home that didn't involve using a level, stud finder, measuring tape, nails, drill, and any other took he could think of for orchestrating the most elaborate wall mounting you could imagine. Bye bye hours of my life!
As much as I appreciate my husband's attention to detail and desire to do things correctly, I have other things to do too so thankfully, hooks have been a complete game-changer.
I've used these pretty metal hooks to hang wreaths on my front door, and we use slightly larger clear hooks to hang our stockings over the fireplace at Christmas.
They are truly an ingenious tool because they're easy to remove when you're done with them, and they've never damaged our walls, doors, or fireplace mantel.
They're also really inexpensive, and stylish solutions that don't break the bank just might be my all time favorite!
How to Use Command Hooks to Hide Ugly Wires and an Assortment of Cords 
The process of individual cords or a mess of wires really couldn't have been easier.
I just added to the back of our entryway table, and used the little clips to hold the wires.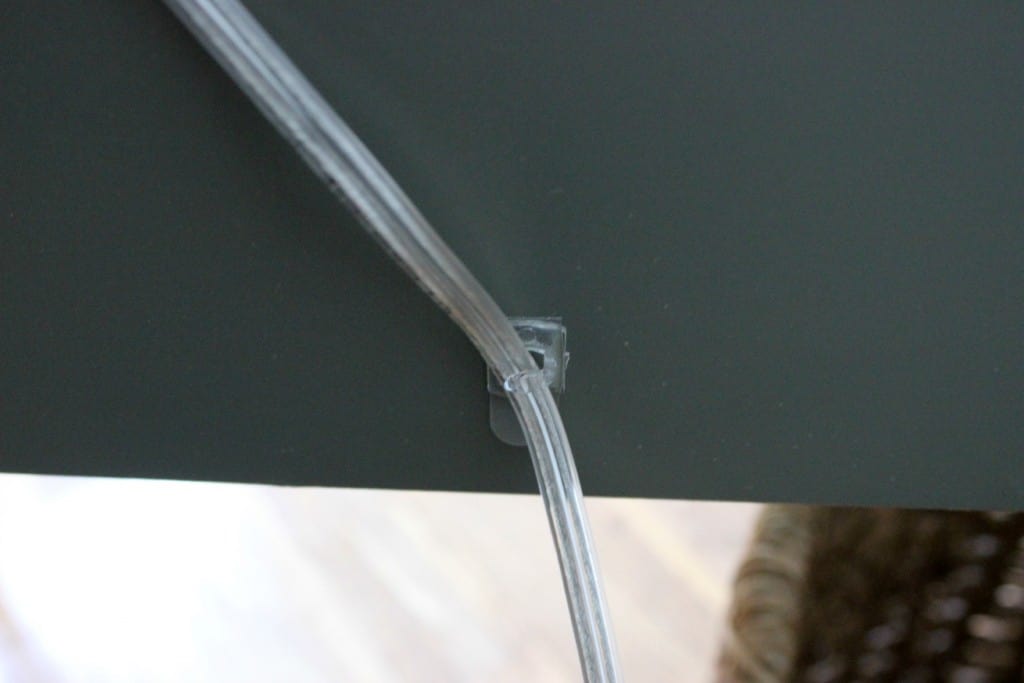 How do you hide cord clutter?
The lamp cord did end up being much longer than we needed in order for it to be to reach the electrical outlet so I wrapped the excess cord around the back of the table and called it a day.
I didn't worry about it looking pretty because I knew no one would see it on the back of furniture.
No one's going to see it so I was able to hide everything with these little cord clips and no one's ever been the wiser.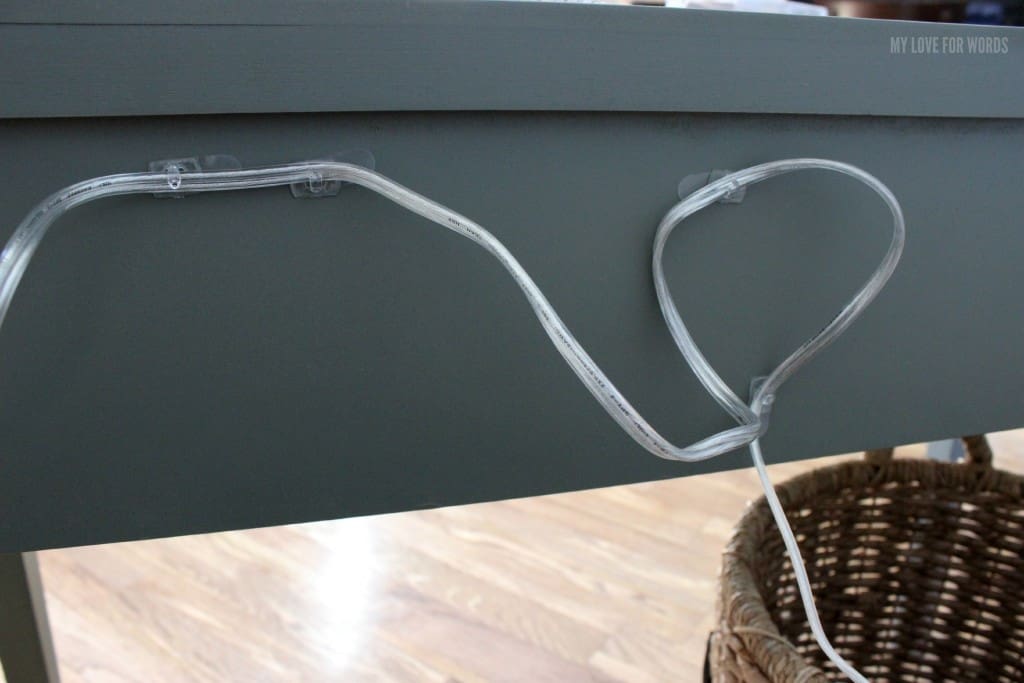 Since the table had to be pushed away from the wall so I had room to work, there did end up being some extra cord hanging down when I pushed the table back into place.
Another cord clip to the rescue! I just added an extra hook to the wall just under the table so it was out of sight but still able to keep the cord securely in place.
And Voila! Simple as that. Now, all the little beautiful things we want to showcase on the table are able to be in the spotlight, and the ugly cord is no longer a distraction.
This is what it looks like from our front door. Everything's organized and contained in plain sight.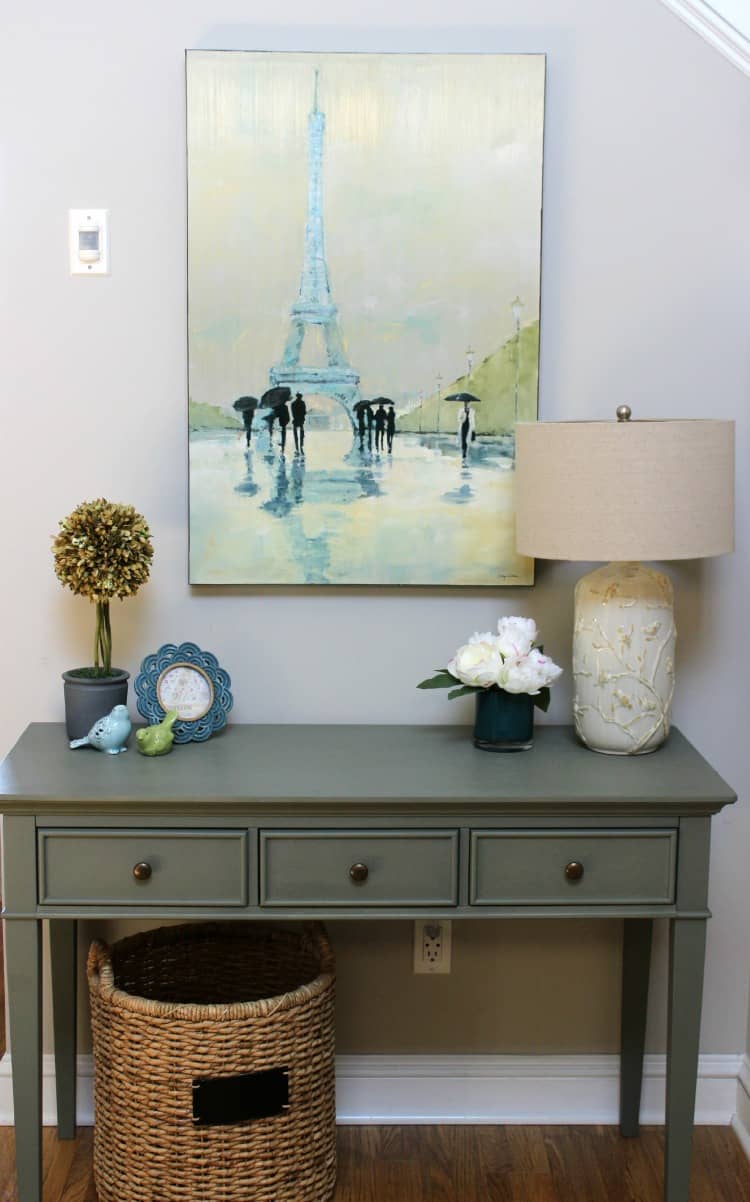 So much better, right?!
I still have a ton of these hooks left to attack the rest of the unruly cords in our house. This trick would work great on:
nightstand
living rooms
tv wires
sideboard
handbags
computer wires and cords needed for a desktop
printers
phone charger, tablets, and other devices
cords leading to a power strip or routers
More Ideas for Hiding Cords 
I love this easy hack, but what you might be wondering how to hide ugly cords if they can't be easily hidden behind a table?
Are we just out of luck and doomed to stare at ugly cables? No!
If this adhesive hook trick won't work for the space and cords you're looking to hide, try one of these ideas instead.
2. Hide Cords Inside Baseboards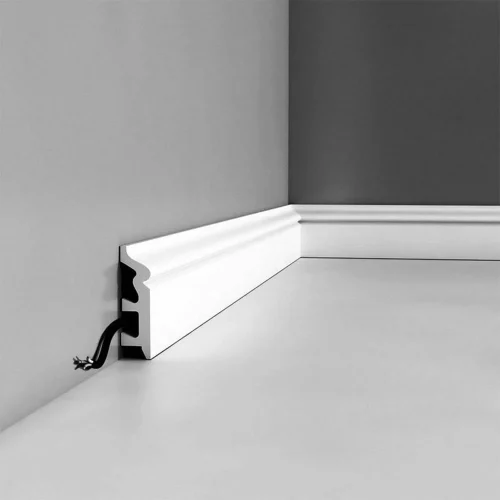 If you really want to make cords hard to spot, try hiding them inside of baseboards.
3. Zip Ties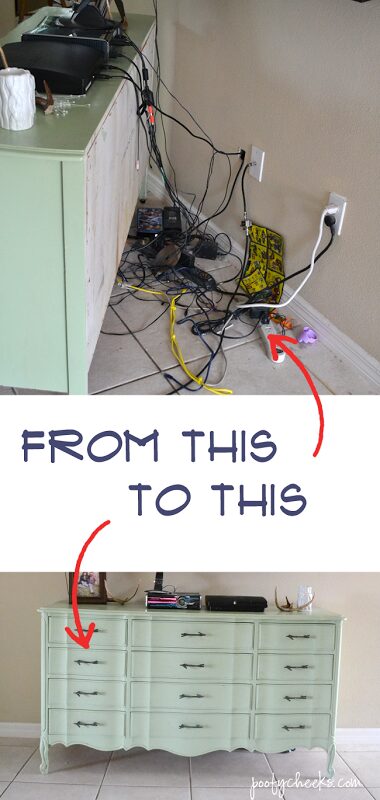 Zip ties are a great way to hide a whole bunch of wires.
4. How to Hide Ugly Cords and Electronics in Plain Sight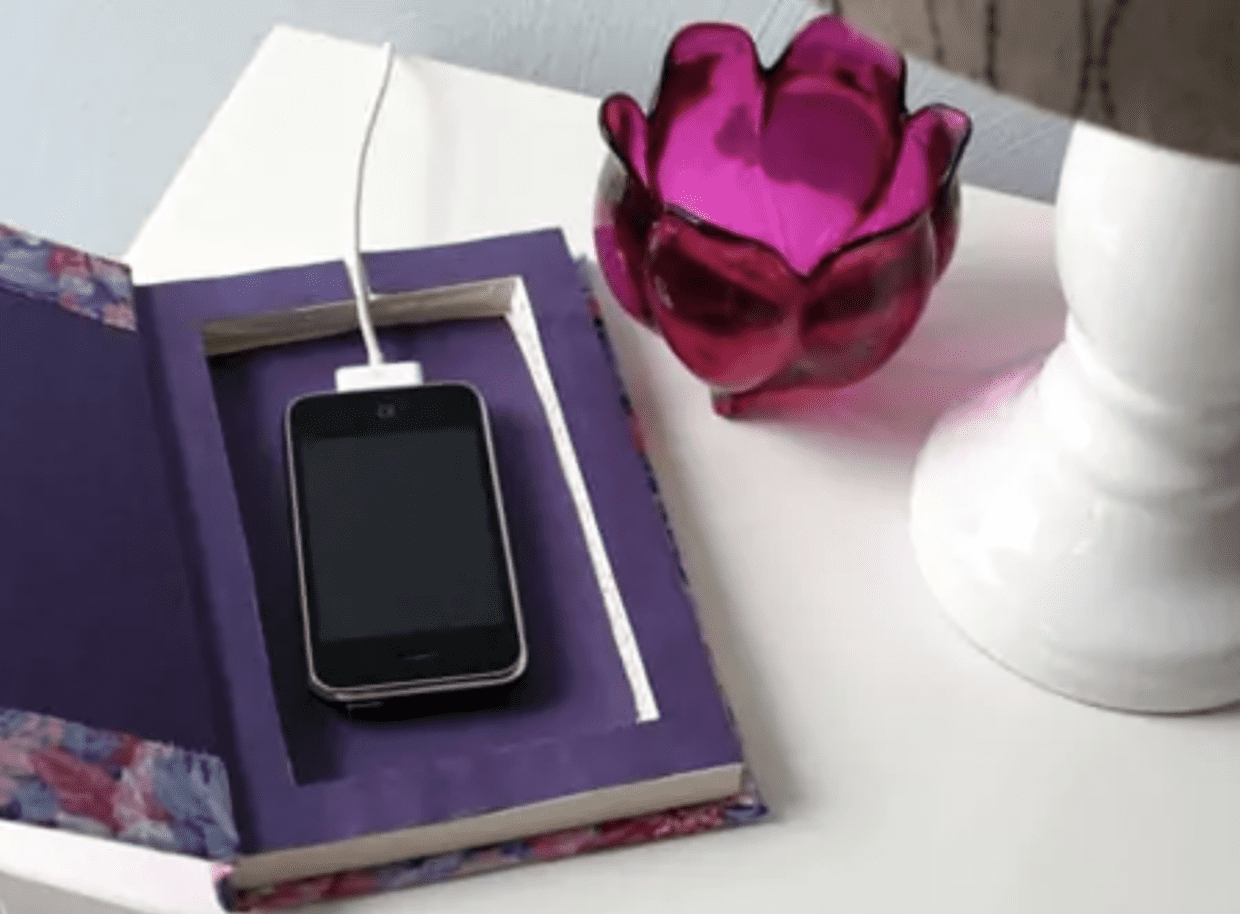 Hiding electronics in everyday objects is a great way to keep them easily accessible without having to see them all the time. It's kind of fun too.
5. Use Baskets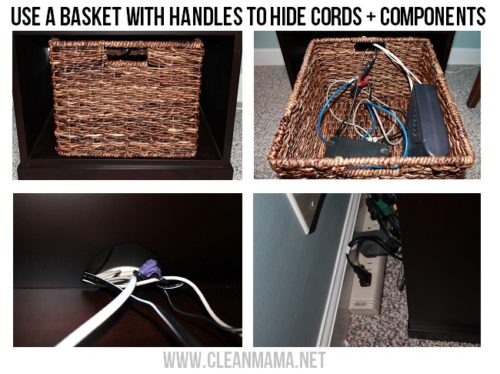 Baskets can act like a cable catch all and are another great way to hide the various cords and components we have around our homes.
6. How to Keep Cables and Cords Organized on the Go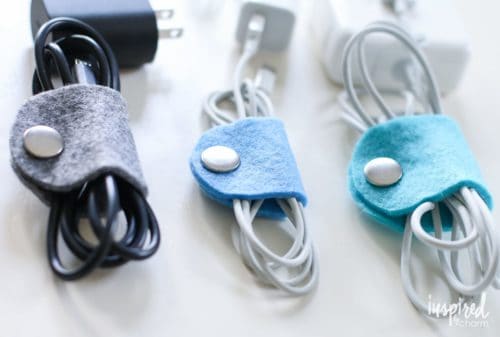 These DIY felt cable organizers are an easy, inexpensive, and cute way to keep your cords from becoming a jumbled mess in your purse. Check out this tutorial to make your own.
7. Wrap Up Your Cords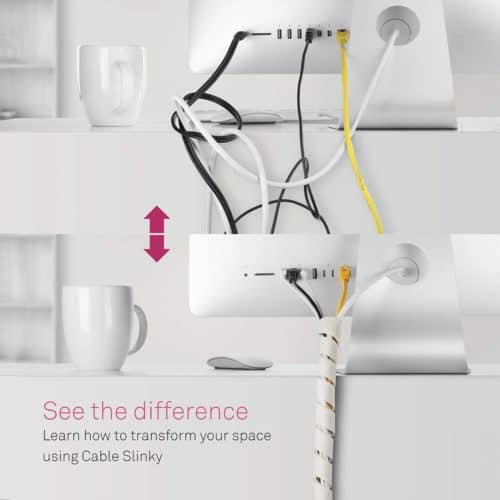 Flexible cord wraps are another way to contain cord chaos without permanently altering your home. They can also help to disguise and camouflage cords you don't want to be seen.
8. Use a Cords Cover Kit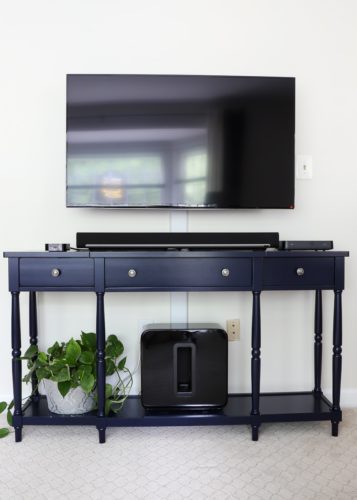 Sometimes a crafty DIY solution just won't cut it or is more trouble than it's worth. If that's the case, a cord cover kit  might be just the solution you're looking for. You can see my favorite one here.
Bonus Tip! Pretty Up Your Cords 
And worst case scenario, if you can't use any of these ideas to make your cords completely invisible, there are ways you can camouflage them or totally embrace and pretty them up.
9. Washi Tape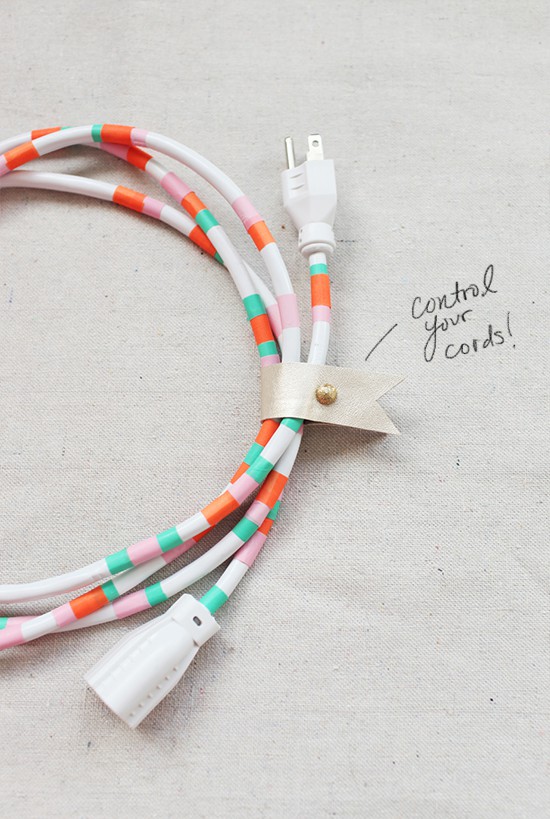 Something as inexpensive was washi tape can make a bold and chic statement so showing your cords actually looks intentional.
10. Sew a Solution
If you or someone you know can sew, you can create a great solution for yourself with just a little fabric. Sewing a tube out of material that matches your wall color is a great way to hide wall mounted tv cords  quickly and without an electrician having to cut into drywall.
11. Create a Docking Station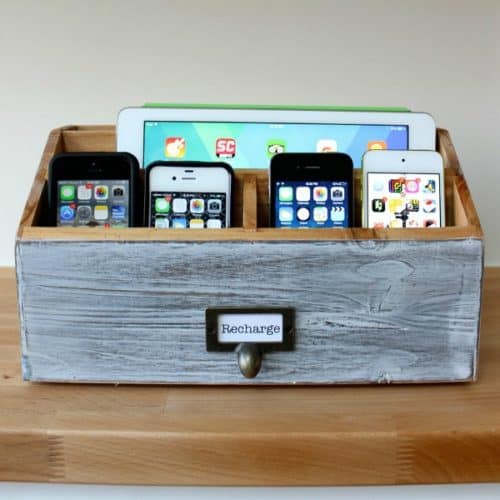 Having one central place to dock all of your electronics can help to reduce the look of cord clutter that comes with all the electronics we use these days. This one's one of my favorites for charging lots of devices in one spot.
Basically, any where you're dealing with wall power and cords could be a great opportunity to hide (or embrace) things creatively.
There no reason to see ugly cords anymore!
Can you see yourself trying any of these ideas? Which is cord hack was your favorite?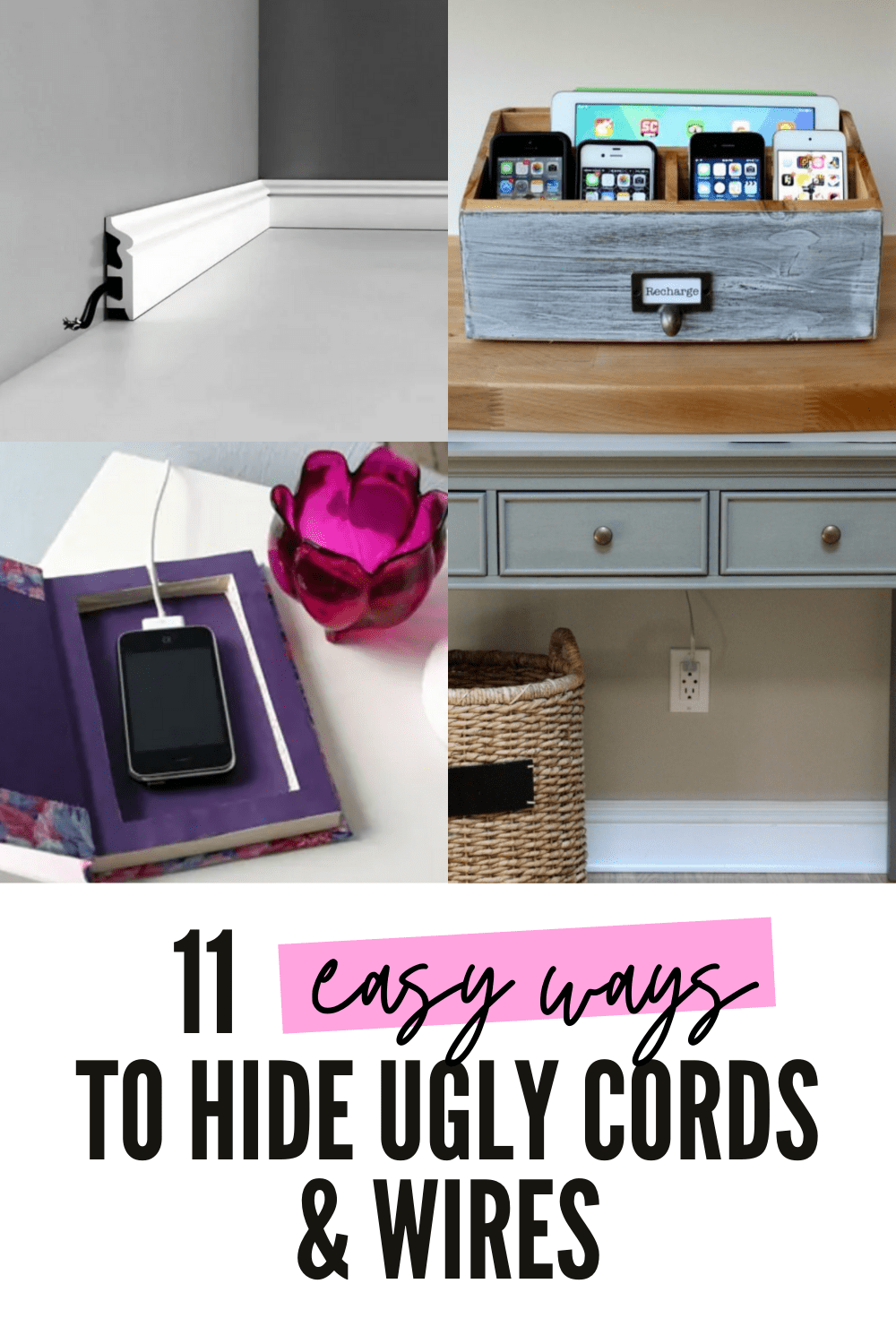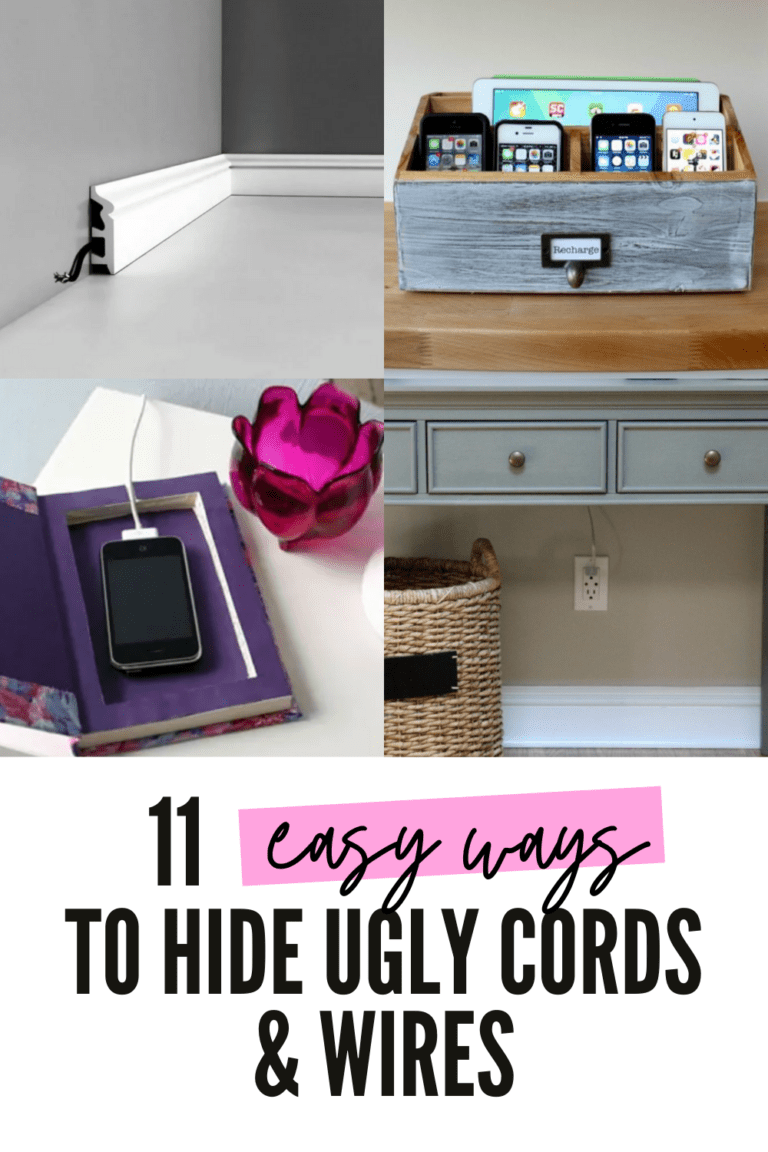 Want to see more hacks for around your home? Check out these posts:
The post 11 Easy Ways to Hide Ugly Cords and Wires Around Your Home appeared first on Happy Organized Life.